Composer: Sri Tallapaka Annamacharya (Annamayya అన్నమయ్య) , May 9, 1408 – February 23, 1503 was born to Narayana Suri and Lakkamamba in Tallapaka, a village in current day Kadapa district of Andhra Pradesh. More….
Keerthana No. 27
Copper Sheet No. pt 05
Pallavi: Unnamatalika (ఉన్నమాట లిక)
Ragam: Lalitha
Language: Telugu (తెలుగు)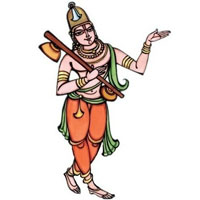 Recitals
Awaiting Contributions.
…
Awaiting Contributions.
[audio: audio-instrumental-file-name.mp3].
This Kriti was originally composed in Telugu. Other languages are for your convenience.
Pallavi
ఉన్నమాట లిక నేల వో దేవా
యెన్నటి కిదేమాట యింకా నింకాను
Charanams
1. కొంత నా కర్మఫలము కొంత నీ రక్ష కత్వము
యింతలో రెండు గలవా యేమో దేవా
అంతర్యామివి నీవు ఆడేటిబొమ్మను నేను
చెంత గాచుట నీపని సేవసేయ నాపని
2.నే నపరాధి నయ్యేది నీవు వహించు కొనేది
యీ నెపాలు రెండూ నేల యేమో దేవా
మానక యిట్లయితే నీ మహిమకు గురుతేది
ఆని చింతించే నందుల కపకీర్తి యనుచు
3.మెదలే నా యధమము మీ ఘనత యెంచి కావు
యిదియే నా విన్నపము యేమో దేవా
యెదుట శ్రీవేంకటేశ యిన్నిటా నీ బంటు బంట
పదివేలు నా నేరాలు పట్టకుమీ యికను
.
Pallavi
unnamATa lika nEla vO dEvA
yennaTi kidEmATa yiMkA niMkAnu
Charanams
1.koMta nA karmaPalamu koMta nI rakSha katwamu
yiMtalO reMDu galavA yEmO dEvA
aMtaryAmivi nIvu ADETibommanu nEnu
ceMta gAcuTa nIpani sEvasEya nApani
2.nE naparAdhi nayyEdi nIvu vahiMcu konEdi
yI nepAlu reMDU nEla yEmO dEvA
mAnaka yiTlayitE nI mahimaku gurutEdi
Ani ciMtiMcE naMdula kapakIrti yanucu
3.medalE nA yadhamamu mI Ganata yeMci kAvu
yidiyE nA vinnapamu yEmO dEvA
yeduTa SrIvEMkaTESa yinniTA nI baMTu baMTa
padivElu nA nErAlu paTTakumI yikanu
.

We will update this page , once we find comprehensive meaning. Feel free to contribute if you know.
.