Composer: Sri Tallapaka Annamacharya (Annamayya అన్నమయ్య) , May 9, 1408 – February 23, 1503 was born to Narayana Suri and Lakkamamba in Tallapaka, a village in current day Kadapa district of Andhra Pradesh. More….
Keerthana No. 295
Copper Sheet No. 250
Pallavi: Urakumdumanave ( ఊరకుండు మనవే)
Ragam: Mukhari
Language: Telugu (తెలుగు)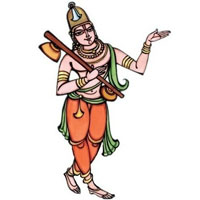 Recitals
Awaiting Contributions.
…
Awaiting Contributions.
[audio: audio-instrumental-file-name.mp3].
This Kriti was originally composed in Telugu. Other languages are for your convenience.
Pallavi
|| ఊరకుండు మనవే వొడబాటులిక నేలే | కోరికలు గోరుకొంటా గొణగే గాని ||
Charanams
|| ఆగపడితిమి తొల్లే ఆయను తన పొందు | యెగసెక్కే లాడక తానిక నెన్నడే |
జగడింప నోపము జవ్వనము మోచుకొని | మొగము చూచి చూచి మూలిగే గాని ||
|| సేవలెల్లా జేసేము చెల్లుబడి గలవాడు | యీ వలనవ్వులు నవ్వకిక నెన్నడే |
చేపట్టి తియ్యనేల సిగ్గులుపై వేసుకొని | దేవరంట మొక్కుకొంటా దీవించే గాక ||
|| కూడితిమి కౌగిటను గురుతు చన్నుల నంటె | యీడనే ప్రియాలు సేయకిక నెన్నడే |
జోడై శ్రీ వేంకటేశు చుట్టరికపు దనాన | మేడెపు రతులలోన మెచ్చేము గాక ||
.
Pallavi
|| UrakuMDu manavE voDabATulika nElE | kOrikalu gOrukoMTA goNagE gAni ||
Charanams
|| AgapaDitimi tollE Ayanu tana poMdu | yegasekkE lADaka tAnika nennaDE |
jagaDiMpa nOpamu javvanamu mOcukoni | mogamu cUci cUci mUligE gAni ||
|| sEvalellA jEsEmu cellubaDi galavADu | yI valanavvulu navvakika nennaDE |
cEpaTTi tiyyanEla siggulupai vEsukoni | dEvaraMTa mokkukoMTA dIviMcE gAka ||
|| kUDitimi kaugiTanu gurutu cannula naMTe | yIDanE priyAlu sEyakika nennaDE |
jODai SrI vEMkaTESu cuTTarikapu danAna | mEDepu ratulalOna meccEmu gAka ||
.

We will update this page , once we find comprehensive meaning. Feel free to contribute if you know.
.