Composer: Sri Tallapaka Annamacharya (Annamayya అన్నమయ్య) , May 9, 1408 – February 23, 1503 was born to Narayana Suri and Lakkamamba in Tallapaka, a village in current day Kadapa district of Andhra Pradesh. More….
Keerthana No. 229
Copper Sheet No. 339
Pallavi: Urakunna varitoda (ఊరకున్న వారితోడ)
Ragam: Mukhari
Language: Telugu (తెలుగు)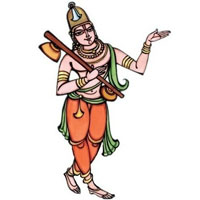 Recitals
Awaiting Contributions.
…
Awaiting Contributions.
[audio: audio-instrumental-file-name.mp3].
This Kriti was originally composed in Telugu. Other languages are for your convenience.
Pallavi
|| ఊరకున్న వారితోడ వూరునోప దెఱగవా | చేరినాతో ముద్దులెల్లా జెప్పేవు గాక ||
Charanams
|| వద్దని నీతో నేను వాదులాడిచేనా | గద్దించి యప్పటి నిన్ను గాదనేనా |
తిద్ది నీ గుణాలు నేడు తీరుచ వచ్చేనా | వొద్దనే నీ వెట్టుండినా మంటివి గాక ||
|| చలపట్టి నిను నేను సాధించ వచ్చేనా | కలవి లేనివి తారుకాణించేనా |
నిలువుకు నిలువే న్నిను నేరాలెంచేనా | వెలివెంత నవ్వినా నవ్వితివి గాక ||
|| పంతమాడి సారెసారె బంగించ దొరకొనేనా | వంతులకు నంతేసి వాసి పట్టేనా |
యింతలో శ్రీవేంకటేశ యెనసితి విటునన్ను | యెంత చనువిచ్చినాను ఇచ్చేవుగాక ||
.
Pallavi
|| Urakunna vAritODa vUrunOpa derxagavA | cErinAtO muddulellA jeppEvu gAka ||
Charanams
|| vaddani nItO nEnu vAdulADicEnA | gaddiMci yappaTi ninnu gAdanEnA |
tiddi nI guNAlu nEDu tIruca vaccEnA | voddanE nI veTTuMDinA maMTivi gAka ||
|| calapaTTi ninu nEnu sAdhiMca vaccEnA | kalavi lEnivi tArukANiMcEnA |
niluvuku niluvE nninu nErAleMcEnA | veliveMta navvinA navvitivi gAka ||
|| paMtamADi sAresAre baMgiMca dorakonEnA | vaMtulaku naMtEsi vAsi paTTEnA |
yiMtalO SrIvEMkaTESa yenasiti viTunannu | yeMta canuviccinAnu iccEvugAka ||
.

We will update this page , once we find comprehensive meaning. Feel free to contribute if you know.
.