Composer: Sri Tallapaka Annamacharya (Annamayya అన్నమయ్య) , May 9, 1408 – February 23, 1503 was born to Narayana Suri and Lakkamamba in Tallapaka, a village in current day Kadapa district of Andhra Pradesh. More….
Keerthana No. 246
Copper Sheet No. 72
Pallavi: Uyyala balunuchedaru (ఉయ్యాలా బాలునూచెదరు)
Ragam: Sankarabharanam
Language: Telugu (తెలుగు)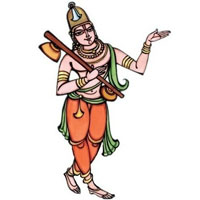 Recitals
Uyyala Balunuchedaru | ఉయ్యాలా బాలునూచెదరు
Album: Unknown | Voice: Unknown
…
Awaiting Contributions.
[audio: audio-instrumental-file-name.mp3].
This Kriti was originally composed in Telugu. Other languages are for your convenience.
Pallavi
ఉయ్యాలా బాలునూచెదరు కడు
నొయ్య నొయ్య నొయ్యనుచు
Charanams
1.బాలయవ్వనలు పసిడివుయ్యాల
బాలుని వద్ద పాడేరు
లాలి లాలి లాలి లాలెమ్మ
లాలి లాలి లాలి లాలనుచు
2.తమ్మిరేకు గనుదమ్ముల నవ్వుల
పమ్ము జూపుల బాడేరు
కొమ్మలు మట్టెల గునుకుల నడపుల
ధిమ్మి ధిమ్మి ధిమ్మి ధిమ్మనుచు
3.చల్లు జూపుల జవరాండ్లురే
పల్లె బాలుని బాడేరు
బల్లిదు వేంకటపతి జేరి యందెలు
ఘల్లు ఘల్లు ఘల్లు ఘల్లనుచు
.
Pallavi
UyyAlA bAlunUCedaru kadu
Noyya noyya noyyanuCu
Charanams
1.BAlayavvanalu pasidivuyyAla
Baaluni vadda pAdaeru
LAli lAli lAli lAlemma
LAli lAli lAli lAlanuCu
2.Tammiraeku ganudammula navvula
Pammu jUpula bAdaeru
Kommalu mattela gunukula nadapula
Dhimmi dhimmi dhimmi dhimmanuCu
3.Callu jUpula javarAmdlurae
Palle bAluni bAdaeru
Ballidu vaemkatapati jaeri yamdelu
Ghallu ghallu ghallu ghallanuCu
.

We will update this page , once we find comprehensive meaning. Feel free to contribute if you know.
.