Composer: Muttukumaraswamy (मुत्तुकुमर स्वम्य) popularly known as Muthuswamy Dikshithar (முத்துஸ்வாமி தீக்ஷிதர் – ముత్తుస్వామీ డిక్షితర్), (March 24, 1775 – October 21, 1835) was born in Tiruvarur (of Thanjavur district of Tamil Nadu) to a Tamil Iyer Brahmin couple Ramaswami Dikshitar and Subbamma, as the eldest son. He also had two younger brothers Baluswami, Chinnaswami and a sister Balambal.Chidambaranatha Yogi was his guru. More…

Raagam: Hamsa Dhvani
Taalam: Adi
Diety: Vinayaka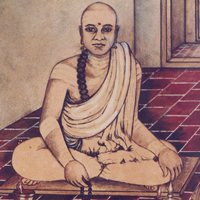 .
Recitals
Album: Unknown | Voice: D.K.Jayaraman
Album: Unknown | Voice: M.L.Vasanthakumari
Album: Unknown | Voice: Dr.Semmangudi,R.Srinivasa Iyer

Awaiting Contributions.

We believe this kriti was originally composed in sanskrit. Other languages are for your convenience.
వాతాపి గణ పతిం – రాగం హంస ధ్వని – తాళం ఆది
పల్లవి
వాతాపి గణ పతిం భజేऽహం
వారణాస్యం వర ప్రదం శ్రీ
అనుపల్లవి
భూతాది సంసేవిత చరణం
భూత భౌతిక ప్రపంచ భరణం
(మధ్యమ కాల సాహిత్యమ్)
వీత రాగిణం వినత యోగినం
విశ్వ కారణం విఘ్న వారణమ్
చరణమ్
పురా కుంభ సంభవ ముని వర –
ప్రపూజితం త్రి-కోణ మధ్య గతం
మురారి ప్రముఖాద్యుపాసితం
మూలాధార క్షేత్ర స్థితమ్
పరాది చత్వారి వాగాత్మకం
ప్రణవ స్వరూప వక్ర తుండం
నిరంతరం నిటిల చంద్ర ఖండం
నిజ వామ కర విధృతేక్షు దండమ్
(మధ్యమ కాల సాహిత్యమ్)
కరాంబుజ పాశ బీజా పూరం
కలుష విదూరం భూతాకారం
హరాది గురు గుహ తోషిత బింబం
హంస ధ్వని భూషిత హేరంబమ్
variations:
అనుపల్లవి – వినత – వినుత
.
வாதாபி கண பதிம் – ராகம் ஹம்ஸ த்வனி – தாளம்
ஆதி
பல்லவி
வாதாபி கண பதிம் பஜேஹம்
வாரணாஸ்யம் வர ப்ரதம் ஸ்ரீ
அனுபல்லவி
பூதாதி ஸம்ஸேவித சரணம்
பூத பௌதிக ப்ரபஞ்ச பரணம்
(மத்யம கால ஸாஹித்யம்)
வீத ராகிணம் வினத யோகினம்
விஸ்வ காரணம் விக்ன வாரணம்
சரணம்
புரா கும்ப ஸம்பவ முனி வர –
ப்ரபூஜிதம் த்ரி-கோண மத்ய கதம்
முராரி ப்ரமுகாத்யுபாஸிதம்
மூலாதார க்ஷேத்ர ஸ்தி2தம்
பராதி சத்வாரி வாகாத்மகம்
ப்ரணவ ஸ்வரூப வக்ர துண்டம்
நிரந்தரம் நிடில சந்த்ர க2ண்டம்
நிஜ வாம கர வித்ருதேக்ஷு தண்டம்
(மத்யம கால ஸாஹித்யம்)
கராம்புஜ பாஸ பீஜா பூரம்
கலுஷ விதூரம் பூதாகாரம்
ஹராதி குரு குஹ தோஷித பிம்பம்
ஹம்ஸ த்4வனி பூ4ஷித ஹேரம்ப3ம்
variations:
அனுபல்லவி – வினத – வினுத
.
ವಾತಾಪಿ ಗಣ ಪತಿಂ – ರಾಗಂ ಹಂಸ ಧ್ವನಿ – ತಾಳಂ ಆದಿ
ಪಲ್ಲವಿ
ವಾತಾಪಿ ಗಣ ಪತಿಂ ಭಜೇऽಹಂ
ವಾರಣಾಸ್ಯಂ ವರ ಪ್ರದಂ ಶ್ರೀ
ಅನುಪಲ್ಲವಿ
ಭೂತಾದಿ ಸಂಸೇವಿತ ಚರಣಂ
ಭೂತ ಭೌತಿಕ ಪ್ರಪಂಚ ಭರಣಂ
(ಮಧ್ಯಮ ಕಾಲ ಸಾಹಿತ್ಯಮ್)
ವೀತ ರಾಗಿಣಂ ವಿನತ ಯೋಗಿನಂ
ವಿಶ್ವ ಕಾರಣಂ ವಿಘ್ನ ವಾರಣಮ್
ಚರಣಮ್
ಪುರಾ ಕುಂಭ ಸಂಭವ ಮುನಿ ವರ –
ಪ್ರಪೂಜಿತಂ ತ್ರಿ-ಕೋಣ ಮಧ್ಯ ಗತಂ
ಮುರಾರಿ ಪ್ರಮುಖಾದ್ಯುಪಾಸಿತಂ
ಮೂಲಾಧಾರ ಕ್ಷೇತ್ರ ಸ್ಥಿತಮ್
ಪರಾದಿ ಚತ್ವಾರಿ ವಾಗಾತ್ಮಕಂ
ಪ್ರಣವ ಸ್ವರೂಪ ವಕ್ರ ತುಂಡಂ
ನಿರಂತರಂ ನಿಟಿಲ ಚಂದ್ರ ಖಂಡಂ
ನಿಜ ವಾಮ ಕರ ವಿಧೃತೇಕ್ಷು ದಂಡಮ್
(ಮಧ್ಯಮ ಕಾಲ ಸಾಹಿತ್ಯಮ್)
ಕರಾಂಬುಜ ಪಾಶ ಬೀಜಾ ಪೂರಂ
ಕಲುಷ ವಿದೂರಂ ಭೂತಾಕಾರಂ
ಹರಾದಿ ಗುರು ಗುಹ ತೋಷಿತ ಬಿಂಬಂ
ಹಂಸ ಧ್ವನಿ ಭೂಷಿತ ಹೇರಂಬಮ್
variations –
ಅನುಪಲ್ಲವಿ – ವಿನತ – ವಿನುತ
.
वातापि गण पतिं – रागं हंस ध्वनि – ताळं आदि
पल्लवि
वातापि गण पतिं भजेऽहं
वारणास्यं वर प्रदं श्री
अनुपल्लवि
भूतादि संसेवित चरणं
भूत भौतिक प्रपञ्च भरणं
(मध्यम काल साहित्यम्)
वीत रागिणं विनत योगिनं
विश्व कारणं विघ्न वारणम्
चरणम्
पुरा कुम्भ सम्भव मुनि वर –
प्रपूजितं त्रि-कोण मध्य गतं
मुरारि प्रमुखाद्युपासितं
मूलाधार क्षेत्र स्थितम्
परादि चत्वारि वागात्मकं
प्रणव स्वरूप वक्र तुण्डं
निरन्तरं निटिल चन्द्र खण्डं
निज वाम कर विधृतेक्षु दण्डम्
(मध्यम काल साहित्यम्)
कराम्बुज पाश बीजा पूरं
कलुष विदूरं भूताकारं
हरादि गुरु गुह तोषित बिम्बं
हंस ध्वनि भूषित हेरम्बम्
variations:
अनुपल्लवि – विनत – विनुत
.
pallavi
vAtApi gaNa patiM bhajE(a)haM vAraNAsyaM vara pradaM SrI
anupallavi
bhUtAdi saMsEvita caraNaM bhUta bhautika prapanca bharaNaM
(madhyama kAla sAhityam)
vIta rAgiNaM vinata yOginaM viSva kAraNaM vighna vAraNam
caraNam
purA kumbha sambhava muni vara prapUjitaM tri-kONa madhya gataM
murAri pramukhAdyupAsitaM mUlAdhAra kshEtra sthitam
parAdi catvAri vAgAtmakaM praNava svarUpa vakra tuNDaM
nirantaraM niTila candra khaNDaM nija vAma kara vidhRtEkshu daNDam
(madhyama kAla sAhityam)
karAmbuja pASa bIjA pUraM kalusha vidUraM bhUtAkAraM
harAdi guru guha tOshita bimbaM haMsa dhvani bhUshita hErambam
variations:
anupallavi – vinata – vinuta
.
വാതാപി ഗണ പതിം – രാഗം ഹംസ ധ്വനി – താളം ആദി
പല്ലവി
വാതാപി ഗണ പതിം ഭജേऽഹം
വാരണാസ്യം വര പ്രദം ശ്രീ
അനുപല്ലവി
ഭൂതാദി സംസേവിത ചരണം
ഭൂത ഭൌതിക പ്രപഞ്ച ഭരണം
(മധ്യമ കാല സാഹിത്യമ്)
വീത രാഗിണം വിനത യോഗിനം
വിശ്വ കാരണം വിഘ്ന വാരണമ്
ചരണമ്
പുരാ കുമ്ഭ സമ്ഭവ മുനി വര –
പ്രപൂജിതം ത്രി-കോണ മധ്യ ഗതം
മുരാരി പ്രമുഖാദ്യുപാസിതം
മൂലാധാര ക്ഷേത്ര സ്ഥിതമ്
പരാദി ചത്വാരി വാഗാത്മകം
പ്രണവ സ്വരൂപ വക്ര തുണ്ഡം
നിരന്തരം നിടില ചന്ദ്ര ഖണ്ഡം
നിജ വാമ കര വിധൃതേക്ഷു ദണ്ഡമ്
(മധ്യമ കാല സാഹിത്യമ്)
കരാമ്ബുജ പാശ ബീജാ പൂരം
കലുഷ വിദൂരം ഭൂതാകാരം
ഹരാദി ഗുരു ഗുഹ തോഷിത ബിമ്ബം
ഹംസ ധ്വനി ഭൂഷിത ഹേരമ്ബമ്
variations:
അനുപല്ലവി – വിനത – വിനുത
.
Pallavi:
I worship vatapi ganapati, the elephant-headed one, the bestower of boons.
Anupallavi:
The one whose feet is well-worshipped by the bhoothaganas, the one who bears the universe formed of the five elements,the one devoid of desires,the one worshipped by yogis, the cause of the universe, the remover of obstacles.
Charanam :
The one who was worshipped by the sage Agastya, the one seated in the middle of the triangle, the one praised by Vishnu [the enemey of Mura ] and others, the deity at the solar plexus[or the deity at Tiruvarur] ,the form of the 4 kinds of speech beginning with para, the one who has a curved body which is but the very symbolism of the mystic syllable Aum, the eternal one, the one who wears a crescent moon, the one who has a sugarcane in his left hand, the one who has in his lotus-like hands the noose and the pomegranate, the one who is free of sins, the one who has a huge form, the form which pleases Shiva and guruguha, the one adorned by the raga Hamsadhwani [ the one who revels in the sound of the ajapa mantra hamsa
.