Composer: Sri Tallapaka Annamacharya (Annamayya అన్నమయ్య) , May 9, 1408 – February 23, 1503 was born to Narayana Suri and Lakkamamba in Tallapaka, a village in current day Kadapa district of Andhra Pradesh. More….
Keerthana No. 101
Copper Sheet No. 1017
Pallavi: Valapu tolakarimche
(వలపు తొలకరించె)
Ragam: Mukhari
Language: Telugu (తెలుగు)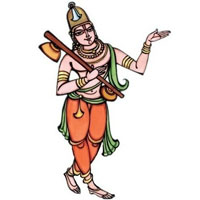 Recitals
Awaiting Contributions.
…
Awaiting Contributions.
[audio: audio-instrumental-file-name.mp3].
This Kriti was originally composed in Telugu. Other languages are for your convenience.
Pallavi
|| వలపు తొలకరించె వనితపైనిదె నేడు
చెలువుడ వింతట విచ్చేయవయ్యా ||
Charanams
|| పడతి విరహవేళ పానుపైదెగి రా లే
వడిముత్యపుసరులే వడగండ్లు
చిడుముడి మేని మీదచిప్పి లేటి చెమటలు
జడివాన గురిసీ విచారించవయ్యా ||
|| నిరతి దురుము మెయిలి మిలువెల్లా ముంచుకొనె
గరిమ నిట్టూర్పు పెనుగాలివంకను
నిరతపు బులకల్ నీరు బుగ్గలవి మించె ||
.
Pallavi
|| valapu tolakariMche vanitapainide nEDu
cheluvuDa viMtaTa vichchEyavayyA ||
Charanams
|| paDati virahavELa pAnupaidegi rA lE
vaDimutyapusarulE vaDagaMDlu
chiDumuDi mEni mIdachippi lETi chemaTalu
jaDivAna gurisI vichAriMchavayyA ||
|| nirati durumu meyili miluvellA muMchukone
garima niTTUrpu penugAlivaMkanu
niratapu bulakal nIru buggalavi miMche ||
.

We will update this page , once we find comprehensive meaning. Feel free to contribute if you know.
.