Composer: Muttukumaraswamy (முத்துகுமாரச்வாமி) popularly known as Muthuswamy Dikshithar (முத்துஸ்வாமி தீக்ஷிதர் – ముత్తుస్వామీ డిక్షితర్), (March 24, 1775 – October 21, 1835) was born in Tiruvarur (of Thanjavur district of Tamil Nadu) to a Tamil Iyer Brahmin couple Ramaswami Dikshitar and Subbamma, as the eldest son. He also had two younger brothers Baluswami, Chinnaswami and a sister Balambal.Chidambaranatha Yogi was his guru. More…
Raagam: Vega Vahini
Taalam: Khanda Ekkam
Diety: Saraswati Devi krithis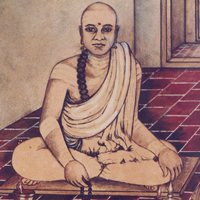 .
Recitals
Album: Unknown | Voice: M.S.Subbalakshmi
Album: Unknown | Voice: T.Mukta

Awaiting Contributions.

We believe this kriti was originally composed in sanskrit. Other languages are for your convenience.
పల్లవి
వీణా పుస్తక ధారిణీమాశ్రయే
వేగ వాహినీం వాణీమాశ్రయే
అనుపల్లవి
ఏణాంక యుత జటాజూట మకుటాం తాం
ఏకాగ్ర చిత్త నిధ్యాతాం విధి కాంతాం
చరణము
పరాద్యఖిల శబ్ద స్వరూపావకాశాం
పౌర్ణమీ చంద్రికా ధవళ సంకాశాం
కరారవిందాం కల్యాణదాం భాషాం
కనక చంపక దామ భూషా విశేషాం
(మధ్యమ కాల సాహిత్యం)
నిరంతరం భక్త జిహ్వాగ్ర వాసాం
నిఖిల ప్రపంచ సంకోచ వికాసాం
నరాధమానన విలోక శోకాపహాం
నర హరి హర గురు గుహ పూజిత విగ్రహాం
variations
ఖండ ఏకం – ఝంప
మకుటాం తాం – మకుటాంతాం
నిధ్యాతాం – నిర్ధ్యాతాం
భాషాం – కాంతాం
.
பல்லவி
வீணா புஸ்தக தா4ரிணீமாஸ்1ரயே
வேக3 வாஹினீம் வாணீமாஸ்1ரயே
அனுபல்லவி
ஏணாங்க யுத ஜடாஜூட மகுடாம் தாம்
ஏகாக்3ர சித்த நித்4யாதாம் விதி4 காந்தாம்
சரணம்
பராத்3யகி2ல ஸ1ப்3த3 ஸ்வரூபாவகாஸா1ம்
பௌர்ணமீ சந்த்3ரிகா த4வள ஸங்காஸா1ம்
கராரவிந்தா3ம் கல்யாணதா3ம் பா4ஷாம்
கனக சம்பக தா3ம பூ4ஷா விஸே1ஷாம்
(மத்4யம கால ஸாஹித்யம்)
நிரந்தரம் ப4க்த ஜிஹ்வாக்3ர வாஸாம்
நிகி2ல ப்ரபஞ்ச ஸங்கோச விகாஸாம்
நராத4மானன விலோக ஸோ1காபஹாம்
நர ஹரி ஹர கு3ரு கு3ஹ பூஜித விக்3ரஹாம்
variations
க2ண்ட3 ஏகம் – ஜ2ம்ப
மகுடாம் தாம் – மகுடாந்தாம்
நித்4யாதாம் – நிர்த்4யாதாம்
பா4ஷாம் – காந்தாம்
.
ಪಲ್ಲವಿ
ವೀಣಾ ಪುಸ್ತಕ ಧಾರಿಣೀಮಾಶ್ರಯೇ
ವೇಗ ವಾಹಿನೀಂ ವಾಣೀಮಾಶ್ರಯೇ
ಅನುಪಲ್ಲವಿ
ಏಣಾಂಕ ಯುತ ಜಟಾಜೂಟ ಮಕುಟಾಂ ತಾಂ
ಏಕಾಗ್ರ ಚಿತ್ತ ನಿಧ್ಯಾತಾಂ ವಿಧಿ ಕಾಂತಾಂ
ಚರಣಂ
ಪರಾದ್ಯಖಿಲ ಶಬ್ದ ಸ್ವರೂಪಾವಕಾಶಾಂ
ಪೌರ್ಣಮೀ ಚಂದ್ರಿಕಾ ಧವಳ ಸಂಕಾಶಾಂ
ಕರಾರವಿಂದಾಂ ಕಲ್ಯಾಣದಾಂ ಭಾಷಾಂ
ಕನಕ ಚಂಪಕ ದಾಮ ಭೂಷಾ ವಿಶೇಷಾಂ
(ಮಧ್ಯಮ ಕಾಲ ಸಾಹಿತ್ಯಂ)
ನಿರಂತರಂ ಭಕ್ತ ಜಿಹ್ವಾಗ್ರ ವಾಸಾಂ
ನಿಖಿಲ ಪ್ರಪಂಚ ಸಂಕೋಚ ವಿಕಾಸಾಂ
ನರಾಧಮಾನನ ವಿಲೋಕ ಶೋಕಾಪಹಾಂ
ನರ ಹರಿ ಹರ ಗುರು ಗುಹ ಪೂಜಿತ ವಿಗ್ರಹಾಂ
variations
ಖಂಡ ಏಕಂ – ಝಂಪ
ಮಕುಟಾಂ ತಾಂ – ಮಕುಟಾಂತಾಂ
ನಿಧ್ಯಾತಾಂ – ನಿರ್ಧ್ಯಾತಾಂ
ಭಾಷಾಂ – ಕಾಂತಾಂ
.
पल्लवि
वीणा पुस्तक धारिणीमाश्रये
वेग वाहिनीं वाणीमाश्रये
अनुपल्लवि
एणाङ्क युत जटाजूट मकुटां तां
एकाग्र चित्त निध्यातां विधि कान्ताम्
चरणम्
पराद्यखिल शब्द स्वरूपावकाशां
पौर्णमी चन्द्रिका धवळ सङ्काशां
करारविन्दां कल्याणदां भाषां
कनक चम्पक दाम भूषा विशेषाम्
(मध्यम काल साहित्यम्)
निरन्तरं भक्त जिह्वाग्र वासां
निखिल प्रपञ्च सङ्कोच विकासां
नराधमानन विलोक शोकापहां
नर हरि हर गुरु गुह पूजित विग्रहाम्
variations
खण्ड एकम् – झम्प
मकुटां तां – मकुटान्तां
निध्यातां – निर्ध्यातां
भाषां – कान्तां
.
pallavi
vINA pustaka dhAriNImASrayE
vEga vAhinIM vANImASrayE
anupallavi
ENAnka yuta jaTAjUTa makuTAM tAM
EkAgra citta nidhyAtAM vidhi kAntAm
caraNam
parAdyakhila Sabda svarUpAvakASAM
paurNamI candrikA dhavaLa sankASAM
karAravindAM kalyANadAM bhAshAM
kanaka campaka dAma bhUshA viSEshAm
(madhyama kAla sAhityam)
nirantaraM bhakta jihvAgra vAsAM
nikhila prapanca sankOca vikAsAM
narAdhamAnana vilOka SOkApahAM
nara hari hara guru guha pUjita vigrahAm
variations
khaNDa Ekam – jhampa
makuTAM tAM – makuTAntAM
nidhyAtAM – nirdhyAtAM
bhAshAM – kAntAM
kshEtra – kAncIpuraM
.
പല്ലവി
വീണാ പുസ്തക ധാരിണീമാശ്രയേ
വേഗ വാഹിനീം വാണീമാശ്രയേ
അനുപല്ലവി
ഏണാങ്ക യുത ജടാജൂട മകുടാം താം
ഏകാഗ്ര ചിത്ത നിധ്യാതാം വിധി കാന്താമ്
ചരണമ്
പരാദ്യഖില ശബ്ദ സ്വരൂപാവകാശാം
പൌര്ണമീ ചന്ദ്രികാ ധവള സങ്കാശാം
കരാരവിന്ദാം കല്യാണദാം ഭാഷാം
കനക ചമ്പക ദാമ ഭൂഷാ വിശേഷാമ്
(മധ്യമ കാല സാഹിത്യമ്)
നിരന്തരം ഭക്ത ജിഹ്വാഗ്ര വാസാം
നിഖില പ്രപഞ്ച സങ്കോച വികാസാം
നരാധമാനന വിലോക ശോകാപഹാം
നര ഹരി ഹര ഗുരു ഗുഹ പൂജിത വിഗ്രഹാമ്
variations
ഖണ്ഡ ഏകമ് – ഝമ്പ
മകുടാം താം – മകുടാന്താം
നിധ്യാതാം – നിര്ധ്യാതാം
ഭാഷാം – കാന്താം
.
Pallavi
I take refuge in Saraswati who bears the Veena and the book, In the one named Vegavahini, In the one named Vani.
Anupallavi
The one who has a head gear with the moon.
The lady of Brahma who is worshipped by the yogis with immense concentration
Charanam
The form of the four kinds of speech beginning with Para.
The one who is as fair as the fullmoon.
The one whose lotus-hands bestow auspiciousness.
The embodiment of speech.The one who is adorned with flowers like kanaka
and champaka.The one who always dwells in the tongue of her devotees.
The one who expand and contracts this universe.
The one who removes the evil of having to look at the faces of evil men.
The one who is worshipped by Vishnu, shiva and guruguha
.