Composer: Sri Tallapaka Annamacharya (Annamayya అన్నమయ్య) , May 9, 1408 – February 23, 1503 was born to Narayana Suri and Lakkamamba in Tallapaka, a village in current day Kadapa district of Andhra Pradesh. More….
Keerthana No. 16
Copper Sheet No. 103
Pallavi: Venakedo mundedo (వెనకేదో ముందేదో)
Ragam: Mukhari
Language: Telugu (తెలుగు)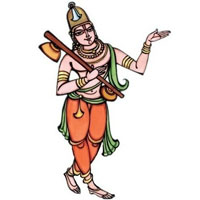 Recitals
Awaiting Contributions.
…
Awaiting Contributions.
[audio: audio-instrumental-file-name.mp3].
This Kriti was originally composed in Telugu. Other languages are for your convenience.
Pallavi
|| వెనకేదో ముందేదో వెర్రినేను నా | మనసు మరులుదేర మందేదొకో ||
Charanams
|| చేరి మీదటి జన్మము సిరులకు నోమేగాని | యేరూపై పుట్టుదునో యెరుగనేను |
కోరి నిద్రించబరచుకొన నుద్యోగింతు గాని | సారెలేతునో లేపనో జాడ తెలియ నేను ||
|| తెల్లవారినప్పుడెల్లా తెలిసితినేగాని | కల్లయేదో నిజమేదో కాననేను |
వల్ల చూచి కామినుల పంపించెగాని | మెల్లమై నా మేను ముదిసిన దెరుగ
|| పాపాలు చేసి మరచి బ్రదుకు చున్నాడగాని | వైపుగ చిత్రగుప్తుడు వ్రాయు టెరుగ |
యేపున శ్రీ వేంకటేశుడెక్కడో వెదకే గాని | నా పాలి దైవమని నన్నుగాచుటెరుగ ||
.
Pallavi
|| venakEdO muMdEdO verrinEnu nA | manasu maruludEra maMdEdokO ||
Charanams
|| cEri mIdaTi janmamu sirulaku nOmEgAni | yErUpai puTTudunO yeruganEnu |
kOri nidriMcabaracukona nudyOgiMtu gAni | sArelEtunO lEpanO jADa teliya nEnu ||
|| tellavArinappuDellA telisitinEgAni | kallayEdO nijamEdO kAnanEnu |
valla cUci kAminula paMpiMcegAni | mellamai nA mEnu mudisina deruga
|| pApAlu cEsi maraci braduku cunnADagAni | vaipuga citraguptuDu vrAyu Teruga |
yEpuna SrI vEMkaTESuDekkaDO vedakE gAni | nA pAli daivamani nannugAcuTeruga ||
.

We will update this page , once we find comprehensive meaning. Feel free to contribute if you know.
.