Composer: Muttukumaraswamy (முத்துகுமாரச்வாமி) popularly known as Muthuswamy Dikshithar (முத்துஸ்வாமி தீக்ஷிதர் – ముత్తుస్వామీ డిక్షితర్), (March 24, 1775 – October 21, 1835) was born in Tiruvarur (of Thanjavur district of Tamil Nadu) to a Tamil Iyer Brahmin couple Ramaswami Dikshitar and Subbamma, as the eldest son. He also had two younger brothers Baluswami, Chinnaswami and a sister Balambal.Chidambaranatha Yogi was his guru. More…
Raagam: Karnataka Kapi
Taalam: Adi
Diety: Sri Venkateswara Krithis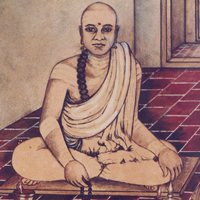 .
Recitals
Album: Unknown | Voice: M.Mani Iyer

Awaiting Contributions.

We believe this kriti was originally composed in sanskrit. Other languages are for your convenience.
పల్లవి
వేంకటాచల పతే నిను నమ్మితి
వేగమే నను రక్షియుమయ్యా
అనుపల్లవి
పంకజాసన ప్రముఖాది వినుత –
పదమునాశ్రయించిన వారికెల్ల –
(మధ్యమ కాల సాహిత్యం)
సంకటములు తీర్చి సంపదలిచ్చి –
మంగళం పొరుందియ పులివలత్తిల్ విళంగుం
చరణం
శ్రీ నివాస శేషాచలమునించి శీఘ్రమాయ్ వందు
అంధునికభీష్ట దానమొసగి –
గోకర్ణ క్షేత్రములో నెలకొని –
మృకండు మునిగళ్ ముదలాన భక్తానాం –
అభయ వర ప్రదాన చతుర-తర రమా పతే –
దయా నిధే ప్రత్యక్షముగానింద –
మానిలత్తిల్ నిన్ మహిమై అనేకం
(మధ్యమ కాల సాహిత్యం)
వానవర్ వణంగుం వాసు దేవనే
వాంఛితార్థ ఫలమిచ్చు వరదనే
దీన రక్షకా పీతాంబర ధర
దేవ దేవ గురు గుహన్ మామనాన
variations
కర్ణాటక కాపి – కాపి – కానడ
వేంకటాచల – వెంకటాచల
రక్షియుమయ్యా – రక్షింపుమయ్యా
మునిగళ్ – మునీశు – మునీశర్
దీన రక్షకా – దీన రక్షక
.
பல்லவி
வேங்கடாசல பதே நினு நம்மிதி
வேக3மே நனு ரக்ஷியுமய்யா
அனுபல்லவி
பங்கஜாஸன ப்ரமுகா2தி3 வினுத –
பத3முனாஸ்1ரயிஞ்சின வாரிகெல்ல –
(மத்4யம கால ஸாஹித்யம்)
ஸங்கடமுலு தீர்சி ஸம்பத3லிச்சி –
மங்க3ளம் பொருந்தி3ய புலிவலத்தில் விளங்கு3ம்
சரணம்
ஸ்ரீ நிவாஸ ஸே1ஷாசலமுனிஞ்சி ஸீ1க்4ரமாய் வந்து3
அந்து4னிகபீ4ஷ்ட தா3னமொஸகி3 –
கோ3கர்ண க்ஷேத்ரமுலோ நெலகொனி –
ம்ரு2கண்டு3 முனிக3ள் முத3லான ப4க்தானாம் –
அப4ய வர ப்ரதா3ன சதுர-தர ரமா பதே –
த3யா நிதே4 ப்ரத்யக்ஷமுகா3னிந்த3 –
மானிலத்தில் நின் மஹிமை அனேகம்
(மத்4யம கால ஸாஹித்யம்)
வானவர் வணங்கு3ம் வாஸு தே3வனே
வாஞ்சி2தார்த2 ப2லமிச்சு வரத3னே
தீ3ன ரக்ஷகா பீதாம்ப3ர த4ர
தே3வ தே3வ கு3ரு கு3ஹன் மாமனான
variations
கர்ணாடக காபி – காபி – கானட3
வேங்கடாசல – வெங்கடாசல
ரக்ஷியுமய்யா – ரக்ஷிம்புமய்யா
முனிக3ள் – முனீஸு1 – முனீஸ1ர்
தீ3ன ரக்ஷகா – தீ3ன ரக்ஷக
.
ಪಲ್ಲವಿ
ವೇಂಕಟಾಚಲ ಪತೇ ನಿನು ನಮ್ಮಿತಿ
ವೇಗಮೇ ನನು ರಕ್ಷಿಯುಮಯ್ಯಾ
ಅನುಪಲ್ಲವಿ
ಪಂಕಜಾಸನ ಪ್ರಮುಖಾದಿ ವಿನುತ –
ಪದಮುನಾಶ್ರಯಿಂಚಿನ ವಾರಿಕೆಲ್ಲ –
(ಮಧ್ಯಮ ಕಾಲ ಸಾಹಿತ್ಯಂ)
ಸಂಕಟಮುಲು ತೀರ್ಚಿ ಸಂಪದಲಿಚ್ಚಿ –
ಮಂಗಳಂ ಪೊರುಂದಿಯ ಪುಲಿವಲತ್ತಿಲ್ ವಿಳಂಗುಂ
ಚರಣಂ
ಶ್ರೀ ನಿವಾಸ ಶೇಷಾಚಲಮುನಿಂಚಿ ಶೀಘ್ರಮಾಯ್ ವಂದು
ಅಂಧುನಿಕಭೀಷ್ಟ ದಾನಮೊಸಗಿ –
ಗೋಕರ್ಣ ಕ್ಷೇತ್ರಮುಲೋ ನೆಲಕೊನಿ –
ಮೃಕಂಡು ಮುನಿಗಳ್ ಮುದಲಾನ ಭಕ್ತಾನಾಂ –
ಅಭಯ ವರ ಪ್ರದಾನ ಚತುರ-ತರ ರಮಾ ಪತೇ –
ದಯಾ ನಿಧೇ ಪ್ರತ್ಯಕ್ಷಮುಗಾನಿಂದ –
ಮಾನಿಲತ್ತಿಲ್ ನಿನ್ ಮಹಿಮೈ ಅನೇಕಂ
(ಮಧ್ಯಮ ಕಾಲ ಸಾಹಿತ್ಯಂ)
ವಾನವರ್ ವಣಂಗುಂ ವಾಸು ದೇವನೇ
ವಾಂಛಿತಾರ್ಥ ಫಲಮಿಚ್ಚು ವರದನೇ
ದೀನ ರಕ್ಷಕಾ ಪೀತಾಂಬರ ಧರ
ದೇವ ದೇವ ಗುರು ಗುಹನ್ ಮಾಮನಾನ
variations
ಕರ್ಣಾಟಕ ಕಾಪಿ – ಕಾಪಿ – ಕಾನಡ
ವೇಂಕಟಾಚಲ – ವೆಂಕಟಾಚಲ
ರಕ್ಷಿಯುಮಯ್ಯಾ – ರಕ್ಷಿಂಪುಮಯ್ಯಾ
ಮುನಿಗಳ್ – ಮುನೀಶು – ಮುನೀಶರ್
ದೀನ ರಕ್ಷಕಾ – ದೀನ ರಕ್ಷಕ
.
पल्लवि
वेङ्कटाचल पते निनु नम्मिति
वेगमे ननु रक्षियुमय्या
अनुपल्लवि
पङ्कजासन प्रमुखादि विनुत –
पदमुनाश्रयिञ्चिन वारिकॆल्ल –
(मध्यम काल साहित्यम्)
सङ्कटमुलु तीर्चि सम्पदलिच्चि –
मङ्गळं पॊरुन्दिय पुलिवलत्तिल् विळङ्गुम्
चरणं
श्री निवास शेषाचलमुनिञ्चि शीघ्रमाय् वन्दु
अन्धुनिकभीष्ट दानमॊसगि –
गोकर्ण क्षेत्रमुलो नॆलकॊनि –
मृकण्डु मुनिगळ् मुदलान भक्तानाम् –
अभय वर प्रदान चतुर-तर रमा पते –
दया निधे प्रत्यक्षमुगानिन्द –
मानिलत्तिल् निन् महिमै अनेकम्
(मध्यम काल साहित्यम्)
वानवर् वणङ्गुम् वासु देवने
वाञ्छितार्थ फलमिच्चु वरदने
दीन रक्षका पीताम्बर धर
देव देव गुरु गुहन् मामनान
variations
कर्णाटक कापि – कापि – कानड
वेङ्कटाचल – वॆङ्कटाचल
रक्षियुमय्या – रक्षिम्पुमय्या
मुनिगळ् – मुनीशु – मुनीशर्
दीन रक्षका – दीन रक्षक
.
pallavi
vEnkaTAcala patE ninu nammiti
vEgamE nanu rakshiyumayyA
anupallavi
pankajAsana pramukhAdi vinuta –
padamunASrayincina vArikella –
(madhyama kAla sAhityam)
sankaTamulu tIrci sampadalicci –
mangaLaM porundiya pulivalattil viLangum
caraNaM
SrI nivAsa SEshAcalamuninci SIghramAy vandu
andhunikabhIshTa dAnamosagi –
gOkarNa kshEtramulO nelakoni –
mRkaNDu munigaL mudalAna bhaktAnAm –
abhaya vara pradAna catura-tara ramA patE –
dayA nidhE pratyakshamugAninda –
mAnilattil nin mahimai anEkam
(madhyama kAla sAhityam)
vAnavar vaNangum vAsu dEvanE
vAnchitArtha phalamiccu varadanE
dIna rakshakA pItAmbara dhara
dEva dEva guru guhan mAmanAna
variations
karNATaka kApi – kApi – kAnaDa
vEnkaTAcala – venkaTAcala
rakshiyumayyA – rakshimpumayyA
munigaL – munISu – munISar
dIna rakshakA – dIna rakshaka
.
പല്ലവി
വേങ്കടാചല പതേ നിനു നമ്മിതി
വേഗമേ നനു രക്ഷിയുമയ്യാ
അനുപല്ലവി
പങ്കജാസന പ്രമുഖാദി വിനുത –
പദമുനാശ്രയിഞ്ചിന വാരികെല്ല –
(മധ്യമ കാല സാഹിത്യമ്)
സങ്കടമുലു തീര്ചി സമ്പദലിച്ചി –
മങ്ഗളം പൊരുന്ദിയ പുലിവലത്തില്‍ വിളങ്ഗുമ്
ചരണം
ശ്രീ നിവാസ ശേഷാചലമുനിഞ്ചി ശീഘ്രമായ് വന്ദു
അന്ധുനികഭീഷ്ട ദാനമൊസഗി –
ഗോകര്ണ ക്ഷേത്രമുലോ നെലകൊനി –
മൃകണ്ഡു മുനിഗള്‍ മുദലാന ഭക്താനാമ് –
അഭയ വര പ്രദാന ചതുര-തര രമാ പതേ –
ദയാ നിധേ പ്രത്യക്ഷമുഗാനിന്ദ –
മാനിലത്തില്‍ നിന്‍ മഹിമൈ അനേകമ്
(മധ്യമ കാല സാഹിത്യമ്)
വാനവര്‍ വണങ്ഗുമ് വാസു ദേവനേ
വാഞ്ഛിതാര്ഥ ഫലമിച്ചു വരദനേ
ദീന രക്ഷകാ പീതാമ്ബര ധര
ദേവ ദേവ ഗുരു ഗുഹന്‍ മാമനാന
variations
കര്ണാടക കാപി – കാപി – കാനഡ
വേങ്കടാചല – വെങ്കടാചല
രക്ഷിയുമയ്യാ – രക്ഷിമ്പുമയ്യാ
മുനിഗള്‍ – മുനീശു – മുനീശര്‍
ദീന രക്ഷകാ – ദീന രക്ഷക
.
Pallavi
I believe in you O venkatachalapati.Protect me quickly.
Anupallavi
The one prayed by dingitaries including Brahma – who is seated on a lotus.
The one who removes the troubles of those who seek his feet
The one who dwells in the auspicious pulivalam kshetra
Charanam
O Shrinivasa.The one who came down from Sheshacala quickly and
granted boons to devotees and stood in this Southern Gokarana Kshetra
and gave abhaya and varada to mrukandi and other sage devotees expertly.
O Lord of Rama.O ocean of compassion.The one manifest in this world and
The son of vasudeva whose greatness is revered by celestials.
The one who bestows all that one desires.The bestower of boons.
The protector of destitute.The wearer of yellow silk.
O God of Gods, The uncle of guruguha.
.