Composer: Sri Tallapaka Annamacharya (Annamayya అన్నమయ్య) , May 9, 1408 – February 23, 1503 was born to Narayana Suri and Lakkamamba in Tallapaka, a village in current day Kadapa district of Andhra Pradesh. More….
Keerthana No. 6
Copper Sheet No. 201
Pallavi: Verrivada verrivada (వెఱ్ఱివాడ వెఱ్ఱివాడ)
Ragam: BauLi
Language: Telugu (తెలుగు)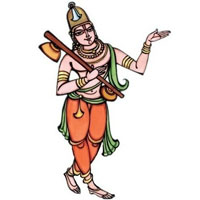 Recitals
Awaiting Contributions.
…
Awaiting Contributions.
[audio: audio-instrumental-file-name.mp3].
This Kriti was originally composed in Telugu. Other languages are for your convenience.
పల్లవి
వెఱ్ఱివాడ వెఱ్ఱివాడ వినియు గనియు మరి
వెఱ్ఱి దెలసి రోకలి వేరె చుట్టేగాక
చరణములు
1.పుట్టించినవాడేటు పూచి నన్ను బెంచలేవా
కట్టగడ నమ్మని నాకడమేకాక
వొట్టి నాలో నుందునట వొగి బాపము నాకేది
గట్టిగా బుణ్యము వేరే కట్టుకొనేగాక || వెఱ్ఱి ||
2.యేడనై నా నీవేయట యెదుట నుడగలేవా
వేడవెట్టి యేడనై నా వెదకేగాక
ఆడినదెల్లా నీవటి అందులో దప్పునిన్న వా
వీడుపడ్డతలపుతో వెరచేగాక || వెఱ్ఱి ||
3.భవించితే మెత్తువట పరము నీవియ్యలేవా
నీవాడనననినానేరమే కాక
శ్రీవేంకటేశుడ నేను చేరి నీకు శరణంటి
దేవుడవై కావగా నే దిద్దుకొనెగాక || వెఱ్ఱి ||
.
Pallavi
ve~r~rivADa ve~r~rivADa viniyu ganiyu mari
ve~r~ri delasi rOkali vEre chuTTEgAka
Charanams
1.puTTiMchinavADaeTu pUchi nannu beMcalEvA
kaTTagaDa nammani nAkaDamEkAka
voTTi nAlO nuMdunaTa vogi bApamu nAkEdi
gaTTigA buNyamu vErE kaTTukonEgAka || ve~r~ri ||
2.yEDanai nA nIvEyaTa yeduTa nuDagalEvA
vEDaveTTi yEDanai nA vedakEgAka
ADinadellA nIvaTi aMdulO dappuninna vA
vIDupaDDatalaputO verachEgAka || ve~r~ri ||
3.BaviMchitE mettuvaTa paramu nIviyyalEvA
nIvADanananinAnEramE kAka
SrIvEMkaTESuDa nEnu chEri nIku SaraNaMTi
dEvuDavai kAvagA nE diddukonegAka || ve~r~ri ||
.

We will update this page , once we find comprehensive meaning. Feel free to contribute if you know.
.