Composer: Sri Tallapaka Annamacharya (Annamayya అన్నమయ్య) , May 9, 1408 – February 23, 1503 was born to Narayana Suri and Lakkamamba in Tallapaka, a village in current day Kadapa district of Andhra Pradesh. More….
Keerthana No.1
Copper Sheet No. 101
Pallavi:Vicarimchu hari (విచారించు హరి)
Ragam: kaambodhi
Language: Telugu (తెలుగు)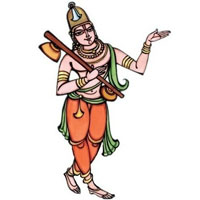 Recitals
Awaiting Contributions.
…
Awaiting Contributions.
[audio: audio-instrumental-file-name.mp3].
This Kriti was originally composed in Telugu. Other languages are for your convenience.
పల్లవి
విచారించు హరి నావిన్నప మవధరించు
పచారమే నాదిగాని పనులెల్లా నీవే
చరణములు
తనువు నాదెందుగాని తనువులోనింద్రియములు
అనిళము నాచెప్పినట్టు నేయవు
మనసు నాదెందుగాని మర్మము నా యిచ్చ రాదు
పనివడి దూరు నాది పరులదే భొగము
అలరి నానిద్దుర నాదెందుగాని సుఖమెల్ల
కలలోని కాపిరాలకతలపాలె
తెలివి నాదెందుగాని దినాలు కాలముసొమ్ము
యేలమి బేరు నాది యెవ్వరిదో బలువు
కర్మము నాదెందుగాని కర్మములోఫలమెల్ల
అర్మిలి నాజన్మములు ఆధీనమె
ధర్మపు శ్రీవెంకటెశ ధయానిధివి నీవు
నిర్మతము నీ దింతే నేరుపు నీమా యది
.
Pallavi
vicArimchu hari nAvinnapa mavadharimcu
pacAramE nAdigAni panulellA nIvE
Charanams
tanuvu nAdemdugAni tanuvulOnimdriyamulu
aniLamu nAceppinaTTu nEyavu
manasu nAdemdugAni marmamu nA yicca rAdu
panivaDi dUru nAdi paruladE Bogamu
alari nAniddura nAdemdugAni suKamella
kalalOni kApirAlakatalapAle
telivi nAdemdugAni dinAlu kAlamusommu
yElami bEru nAdi yevvaridO baluvu
karmamu nAdemdugAni karmamulOPalamella
armili nAjanmamulu AdhIname
dharmapu SrIVemkaTeSa dhayAnidhivi nIvu
nirmatamu nI dimtE nErupu nImA yadi
.

We will update this page , once we find comprehensive meaning. Feel free to contribute if you know.
.