Composer: Sri Tallapaka Annamacharya (Annamayya అన్నమయ్య) , May 9, 1408 – February 23, 1503 was born to Narayana Suri and Lakkamamba in Tallapaka, a village in current day Kadapa district of Andhra Pradesh. More….
Keerthana No. 12
Copper Sheet No. 302
Pallavi: Vidiciti manaradu (విడిచితి మనరాదు)
Ragam: Bouli
Language: Telugu (తెలుగు)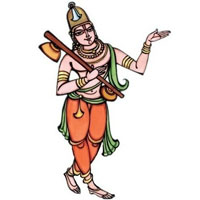 Recitals
Awaiting Contributions.
…
Awaiting Contributions.
[audio: audio-instrumental-file-name.mp3].
This Kriti was originally composed in Telugu. Other languages are for your convenience.
పల్లవి
విడిచితి మనరాదు అవి మరి విడువమనగరాదు
అడరిన శ్రీహరి అనుమతికొలదే
చరణములు
1.పెంచిన బెరుగును పెను యింద్రియములు
కొంచము సెఏసిన గుందును
పంచిన దిందును పాపము బుణ్యము
యెంచగ నీశ్వరు డిచ్చినకొలదే
2.తెలిసిన దేటగు తిరమగుమనసిది
కలచిన లోలో గలగును
తొలచిన దిందునె దుఃఖము సుఖమును
యిల నంతర్యామిచ్చినకొలదే
3.చేసిన జెలగును చేతల కర్మము
పాసిన బాయును బంధముతో
ఆసల శ్రీవేంకటాధిశు డిందుకు
యీసరి గర్తతడిచ్చినకొలదే
.
Pallavi
viDiciti manarAdu avi mari viDuvamanagarAdu
aDarina SrIhari anumatikoladE
Charanams
1.peMcina berugunu penu yiMdriyamulu
koMcamu seEsina guMdunu
paMcina diMdunu pApamu buNyamu
yeMcaga nISvaru DiccinakoladE
2.telisina dETagu tiramagumanasidi
kalacina lOlO galagunu
tolacina diMdune du@hKamu suKamunu
yila naMtaryAmiccinakoladE
3.chEsina jelagunu chEtala karmamu
pAsina bAyunu baMdhamutO
Asala SrIvEMkaTAdhiSu DiMduku
yIsari gartataDiccinakoladE
.

We will update this page , once we find comprehensive meaning. Feel free to contribute if you know.
.