Composer: Sri Tallapaka Annamacharya (Annamayya అన్నమయ్య) , May 9, 1408 – February 23, 1503 was born to Narayana Suri and Lakkamamba in Tallapaka, a village in current day Kadapa district of Andhra Pradesh. More….
Keerthana No. 245
Copper Sheet No. 152
Pallavi: Virxigi paredi (విర్కిగి పారెడి)
Ragam: Nata
Language: Telugu (తెలుగు)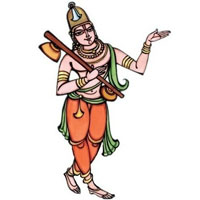 Recitals
Awaiting Contributions.
…
Awaiting Contributions.
[audio: audio-instrumental-file-name.mp3].
This Kriti was originally composed in Telugu. Other languages are for your convenience.
Pallavi
|| విర్కిగి పారెడియట్టివీరిడియోరిపులాల |
తర్కి శరణు చొరరో దండాలువెట్టరో ||
Charanams
|| వీడె వచ్చె గౄష్ణుడిదె వేయరో కైదువులు |
కాగినపోట్లు రాగీ కదియకురో |
పోడిమితో భీతివాయ పూరి నోళ్ళ గరవరో |
ఆడువార మనుకోరో ఆతడు దడవడు ||
|| గోవిందుడు దాడివచ్చె గునుకుచు బారరో |
కావు మని మెడల బాగలువేయరో |
వేవేగ బిడ్డల బేర్లు విభునికి బెట్టరో |
వో వో యెంగిలికి జేతు లొగ్గరో రక్షించీని ||
|| మొత్తీ శ్రీవేంకటేశుడు మూలలకు దాగరో |
వొత్తిలి పంతములిచ్చి మీరోడగదరో |
హత్తి మీతలలు విరియగబోసుకొనరో |
బొత్తుగా మిమ్ము గెలిచె బొగడరో మెచ్చీని ||
.
Pallavi
|| virxigi pAreDiyaTTivIriDiyOripulAla |
tarxi SaraNu corarO daMDAluveTTarO ||
Charanams
|| vIDe vacce gRuShNuDide vEyarO kaiduvulu |
kAginapOTlu rAgI kadiyakurO |
pODimitO BItivAya pUri nOLLa garavarO |
ADuvAra manukOrO AtaDu daDavaDu ||
|| gOviMduDu dADivacce gunukucu bArarO |
kAvu mani meDala bAgaluvEyarO |
vEvEga biDDala bErlu viBuniki beTTarO |
vO vO yeMgiliki jEtu loggarO rakShiMcIni ||
|| mottI SrIvEMkaTESuDu mUlalaku dAgarO |
vottili paMtamulicci mIrODagadarO |
hatti mItalalu viriyagabOsukonarO |
bottugA mimmu gelice bogaDarO meccIni ||
.

We will update this page , once we find comprehensive meaning. Feel free to contribute if you know.
.