Composer: Muttukumaraswamy (முத்துகுமாரச்வாமி) popularly known as Muthuswamy Dikshithar (முத்துஸ்வாமி தீக்ஷிதர் – ముత్తుస్వామీ డిక్షితర్), (March 24, 1775 – October 21, 1835) was born in Tiruvarur (of Thanjavur district of Tamil Nadu) to a Tamil Iyer Brahmin couple Ramaswami Dikshitar and Subbamma, as the eldest son. He also had two younger brothers Baluswami, Chinnaswami and a sister Balambal.Chidambaranatha Yogi was his guru. More…
Raagam: Kanada
Taalam: Adi
Diety: Kasi – Visweswara / Kala Bhairava Kritis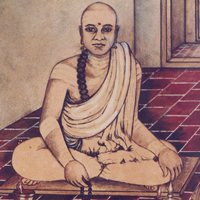 .
Recitals

Awaiting Contributions.


Awaiting Contributions.

We believe this kriti was originally composed in sanskrit. Other languages are for your convenience.
పల్లవి
విశ్వేశ్వరో రక్షతు మాం
విధి గురు గుహాది పూజితస్సతతం
సమష్టి చరణం
విశాలాక్షీ సహితానంద యుతో
వికల్పాతీత ప్రపంచాతీతో
(మధ్యమ కాల సాహిత్యం)
శశి రవి వహ్ని లోచనో
చతుర్విధ పురుషార్థ ప్రదాన నిపుణో
variations
గురు గుహాది – గురు గుహ
పూజితస్సతతం – పూజితఃసతతం – పూజిత సతతం
ప్రదాన – ప్రద
.
பல்லவி
விஸ்1வேஸ்1வரோ ரக்ஷது மாம்
விதி4 கு3ரு கு3ஹாதி3 பூஜிதஸ்ஸததம்
ஸமஷ்டி சரணம்
விஸா1லாக்ஷீ ஸஹிதானந்த3 யுதோ
விகல்பாதீத ப்ரபஞ்சாதீதோ
(மத்4யம கால ஸாஹித்யம்)
ஸ1ஸி1 ரவி வஹ்னி லோசனோ
சதுர்வித4 புருஷார்த2 ப்ரதா3ன நிபுணோ
variations
கு3ரு கு3ஹாதி3 – கு3ரு கு3ஹ
பூஜிதஸ்ஸததம் – பூஜித:ஸததம் – பூஜித ஸததம்
ப்ரதா3ன – ப்ரத3
.
ಪಲ್ಲವಿ
ವಿಶ್ವೇಶ್ವರೋ ರಕ್ಷತು ಮಾಂ
ವಿಧಿ ಗುರು ಗುಹಾದಿ ಪೂಜಿತಸ್ಸತತಂ
ಸಮಷ್ಟಿ ಚರಣಂ
ವಿಶಾಲಾಕ್ಷೀ ಸಹಿತಾನಂದ ಯುತೋ
ವಿಕಲ್ಪಾತೀತ ಪ್ರಪಂಚಾತೀತೋ
(ಮಧ್ಯಮ ಕಾಲ ಸಾಹಿತ್ಯಂ)
ಶಶಿ ರವಿ ವಹ್ನಿ ಲೋಚನೋ
ಚತುರ್ವಿಧ ಪುರುಷಾರ್ಥ ಪ್ರದಾನ ನಿಪುಣೋ
variations
ಗುರು ಗುಹಾದಿ – ಗುರು ಗುಹ
ಪೂಜಿತಸ್ಸತತಂ – ಪೂಜಿತಃಸತತಂ – ಪೂಜಿತ ಸತತಂ
ಪ್ರದಾನ – ಪ್ರದ
.
पल्लवि
विश्वेश्वरो रक्षतु मां
विधि गुरु गुहादि पूजितस्सततम्
समष्टि चरणम्
विशालाक्षी सहितानन्द युतो
विकल्पातीत प्रपञ्चातीतो
(मध्यम काल साहित्यम्)
शशि रवि वह्नि लोचनो
चतुर्विध पुरुषार्थ प्रदान निपुणो
variations
गुरु गुहादि – गुरु गुह
पूजितस्सततम् – पूजितःसततम् – पूजित सततम्
प्रदान – प्रद
.
pallavi
viSvESvarO rakshatu mAM
vidhi guru guhAdi pUjitassatatam
samashTi caraNam
viSAlAkshI sahitAnanda yutO
vikalpAtIta prapancAtItO
(madhyama kAla sAhityam)
SaSi ravi vahni lOcanO
caturvidha purushArtha pradAna nipuNO
variations
guru guhAdi – guru guha
pUjitassatatam – pUjitaHsatatam – pUjita satatam
pradAna – prada
.
പല്ലവി
വിശ്വേശ്വരോ രക്ഷതു മാം
വിധി ഗുരു ഗുഹാദി പൂജിതസ്സതതമ്
സമഷ്ടി ചരണമ്
വിശാലാക്ഷീ സഹിതാനന്ദ യുതോ
വികല്പാതീത പ്രപഞ്ചാതീതോ
(മധ്യമ കാല സാഹിത്യമ്)
ശശി രവി വഹ്നി ലോചനോ
ചതുര്വിധ പുരുഷാര്ഥ പ്രദാന നിപുണോ
variations
ഗുരു ഗുഹാദി – ഗുരു ഗുഹ
പൂജിതസ്സതതമ് – പൂജിതഃസതതമ് – പൂജിത സതതമ്
പ്രദാന – പ്രദ
.
Pallavi
I am always protected by Vishveshvara; the one worshipped by Brahma & guruguha;
Samashti Charanam:
The one who is blissful with Vishalakshi; the one beyond the illusion-fileld universe; the one who has the moon, sun and agni as his eyes; the one skilled in granting the four Purusharthas
Samashti Charanam
The four PurusharthAs are Dharama – Righteousness, Artha – Wealth, KAma- Desire, mOkshA – liberation
The word atIta has been used in two contexts. In the phrase vikalpAtIta it is construed as full of, excess of etc and in the word prapa~ncAtIta it has been used to mean beyond
This composition is not found in the Sangita Sampradaya Pradarsini and is found in later publications like K.Sundaram Iyer's Dikshitar kirtanamala
.