Composer: Sri Tallapaka Annamacharya (Annamayya అన్నమయ్య) , May 9, 1408 – February 23, 1503 was born to Narayana Suri and Lakkamamba in Tallapaka, a village in current day Kadapa district of Andhra Pradesh. More….
Keerthana No. 324
Copper Sheet No. 63
Pallavi: Adidevudai (ఆదిదేవుడై)
Ragam: Samantham
Language: Telugu (తెలుగు)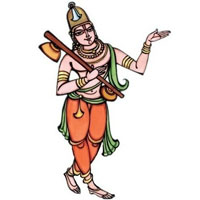 Recitals
Album: Private | Voice: Unknown

Awaiting Contributions.
This Kriti was originally composed in Telugu. Other languages are for your convenience.
Pallavi
ఆదిదేవుడై అందరిపాలిటి-
కీ దేవుడై వచ్చెనితడు
Charanams
1.కోరిన పరమయోగుల చిత్తములలోన
యేరీతినుండెనో యీతడు
చేరవచ్చిన యాశ్ర్తితులనెల్ల బ్రోవ
యీరీతి నున్న వాడితడు
2.కుటిల దానవుల కోటానుకోట్ల
యెటువలె ద్రుంచెనో యీతడు
ఘటియించి యిటువంటి కారుణ్యరూపుడై
యిటువలె నున్నవాడీతడు
3.తక్కక బ్రహ్మాండతతులెల్ల మోచి తా
నెక్కడ నుండెనో యీతడు
దిక్కుల వెలసిన తిరువేంకటేశుడై
యిక్కడ నున్నవాడీతడు
.
Pallavi
AdidEvuDai aMdaripAliTi-
kI dEvuDai vachchenitaDu
Charanams
1.kOrina paramayOgula chittamulalOna
yErItinuMDenO yItaDu
chEravachchina yASrtitulanella brOva
yIrIti nunna vADitaDu
2.kuTila dAnavula kOTAnukOTla
yeTuvale druMchenO yItaDu
ghaTiyiMchi yiTuvaMTi kAruNyarUpuDai
yiTuvale nunnavADItaDu
3.takkaka brahmAMDatatulella mOchi tA
nekkaDa nuMDenO yItaDu
dikkula velasina tiruvEMkaTESuDai
yikkaDa nunnavADItaDu
.

We will update this page , once we find comprehensive meaning. Feel free to contribute if you know.
.