Composer: Muttukumaraswamy (முத்துகுமாரச்வாமி) popularly known as Muthuswamy Dikshithar (முத்துஸ்வாமி தீக்ஷிதர் – ముత్తుస్వామీ డిక్షితర్), (March 24, 1775 – October 21, 1835) was born in Tiruvarur (of Thanjavur district of Tamil Nadu) to a Tamil Iyer Brahmin couple Ramaswami Dikshitar and Subbamma, as the eldest son. He also had two younger brothers Baluswami, Chinnaswami and a sister Balambal.Chidambaranatha Yogi was his guru. More…

Raagam: Sankarabharanam
Taalam: Adi
Diety: Tanjavur – Brihadeeswara Krithis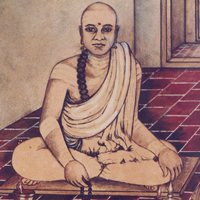 .
Recitals

Awaiting Contributions.


Awaiting Contributions.

We believe this kriti was originally composed in Sanskrit. Other languages are for your convenience.
పల్లవి
బృహదీశ్వరాయ నమస్తే
బ్రహ్మానందాయ బలేశ్వరాయ
అనుపల్లవి
బృహన్నాయకీ మనోల్లాసాయ
భాసమాన చర్మాంబర ధరాయ
చరణము
చారు చంద్ర శేఖరాయ వరాయ
చారుస్మిత సరసీరుహ పదాయ
చరాచరాత్మక ప్రపంచకాయ
సద్గురు గుహ సహిత సదా-శివాయ
(మధ్యమ కాల సాహిత్యమ్)
కరుణా రస పూరితాయ
కైవల్య ప్రదాయ తంజపురీశ్వరాయ
హరి హయాద్యమర వందితాయ
ఆరక్త వర్ణ శోభితాకారాయ
.
பல்லவி
ப்3ரு2ஹதீ3ஸ்1வராய நமஸ்தே
ப்3ரஹ்மானந்தா3ய ப3லேஸ்1வராய
அனுபல்லவி
ப்3ரு2ஹந்நாயகீ மனோல்லாஸாய
பா4ஸமான சர்மாம்ப3ர த4ராய
சரணம்
சாரு சந்த்3ர ஸே1க2ராய வராய
சாருஸ்மித ஸரஸீருஹ பதா3ய
சராசராத்மக ப்ரபஞ்சகாய
ஸத்3கு3ரு கு3ஹ ஸஹித ஸதா3-ஸி1வாய
(மத்4யம கால ஸாஹித்யம்)
கருணா ரஸ பூரிதாய
கைவல்ய ப்ரதா3ய தஞ்ஜபுரீஸ்1வராய
ஹரி ஹயாத்3யமர வந்தி3தாய
ஆரக்த வர்ண ஸோ1பி4தாகாராய
.
ಪಲ್ಲವಿ
ಬೃಹದೀಶ್ವರಾಯ ನಮಸ್ತೇ
ಬ್ರಹ್ಮಾನಂದಾಯ ಬಲೇಶ್ವರಾಯ
ಅನುಪಲ್ಲವಿ
ಬೃಹನ್ನಾಯಕೀ ಮನೋಲ್ಲಾಸಾಯ
ಭಾಸಮಾನ ಚರ್ಮಾಂಬರ ಧರಾಯ
ಚರಣಮ್
ಚಾರು ಚಂದ್ರ ಶೇಖರಾಯ ವರಾಯ
ಚಾರುಸ್ಮಿತ ಸರಸೀರುಹ ಪದಾಯ
ಚರಾಚರಾತ್ಮಕ ಪ್ರಪಂಚಕಾಯ
ಸದ್ಗುರು ಗುಹ ಸಹಿತ ಸದಾ-ಶಿವಾಯ
(ಮಧ್ಯಮ ಕಾಲ ಸಾಹಿತ್ಯಮ್)
ಕರುಣಾ ರಸ ಪೂರಿತಾಯ
ಕೈವಲ್ಯ ಪ್ರದಾಯ ತಂಜಪುರೀಶ್ವರಾಯ
ಹರಿ ಹಯಾದ್ಯಮರ ವಂದಿತಾಯ
ಆರಕ್ತ ವರ್ಣ ಶೋಭಿತಾಕಾರಾಯ
.
पल्लवि
बृहदीश्वराय नमस्ते
ब्रह्मानन्दाय बलेश्वराय
अनुपल्लवि
बृहन्नायकी मनोल्लासाय
भासमान चर्माम्बर धराय
चरणम्
चारु चन्द्र शेखराय वराय
चारुस्मित सरसीरुह पदाय
चराचरात्मक प्रपञ्चकाय
सद्गुरु गुह सहित सदा-शिवाय
(मध्यम काल साहित्यम्)
करुणा रस पूरिताय
कैवल्य प्रदाय तञ्जपुरीश्वराय
हरि हयाद्यमर वन्दिताय
आरक्त वर्ण शोभिताकाराय
.
pallavi
bRhadISvarAya namastE
brahmAnandAya balESvarAya
anupallavi
bRhannAyakI manOllAsAya
bhAsamAna carmAmbara dharAya
caraNam
cAru candra SEkharAya varAya
cArusmita sarasIruha padAya
carAcarAtmaka prapancakAya
sadguru guha sahita sadA-SivAya
(madhyama kAla sAhityam)
karuNA rasa pUritAya
kaivalya pradAya tanjapurISvarAya
hari hayAdyamara vanditAya
Arakta varNa SObhitAkArAya
.
പല്ലവി
ബൃഹദീശ്വരായ നമസ്തേ
ബ്രഹ്മാനന്ദായ ബലേശ്വരായ
അനുപല്ലവി
ബൃഹന്നായകീ മനോല്ലാസായ
ഭാസമാന ചര്മാമ്ബര ധരായ
ചരണമ്
ചാരു ചന്ദ്ര ശേഖരായ വരായ
ചാരുസ്മിത സരസീരുഹ പദായ
ചരാചരാത്മക പ്രപഞ്ചകായ
സദ്ഗുരു ഗുഹ സഹിത സദാ-ശിവായ
(മധ്യമ കാല സാഹിത്യമ്)
കരുണാ രസ പൂരിതായ
കൈവല്യ പ്രദായ തഞ്ജപുരീശ്വരായ
ഹരി ഹയാദ്യമര വന്ദിതായ
ആരക്ത വര്ണ ശോഭിതാകാരായ
.
Pallavi
Prostrations to to Brihadeeswara.To the Supreme joy .To the Supreme Lord.
Anupallavi
To the one who delights BrihannAyaki.To the one that wears a splendrous robe made of skin.
Charanam
To the one who wears the beautiful moon. The revered, To the one who has a beautiful smile and lotus-feet.
To the one who is in the form of this universe consisting of the movable and immovable.
To that sadashiva who is with the noble guruguha.To the one filled with the essence of compassion
To the granter of liberation.The Lord of Tanjapuri.The Lord worshipped by Indra and other devas.
The one who shines forth with a reddish-hue.
.