Composer: Sri Tallapaka Annamacharya (Annamayya అన్నమయ్య) , May 9, 1408 – February 23, 1503 was born to Narayana Suri and Lakkamamba in Tallapaka, a village in current day Kadapa district of Andhra Pradesh. More….
Keerthana No. 140
Copper Sheet No. 274
Pallavi: Chuchiti Danasarita (చూచితి దనసరిత)
Ragam: Kambhodi
Language: Telugu (తెలుగు)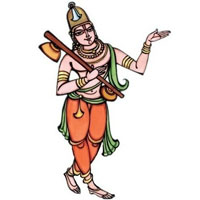 Recitals
Awaiting Contributions.
…
Awaiting Contributions.
[audio: audio-instrumental-file-name.mp3].
This Kriti was originally composed in Telugu. Other languages are for your convenience.
Pallavi
|| చూచితి దనసరిత సుద్దు లేటికో యమ్మ | చేచేత నిక బొంక జెల్లదో యమ్మ ||
Charanams
|| జడిసి లోతుమాటల జాణతనా లాడీ నన్ను | తడివితే దలదీసి తక్కించీ నమ్మ |
చిడుముడి చిల్లరపు సేతల మమ్ము జెనకీ | పడుచు మాటల వాని పసయేమిటమ్మా ||
|| ఆ రీతి నాఱడి బెట్టి యంతలో నడుగుకొనీ | గోర బొయ్యేదాని కింత గొడ్డ లేలమ్మ ||
సారెకు మాట పట్లు సాధించి నడచీని | తీరకుండా జగడాలు తిద్ద బొయ్యీ నమ్మా ||
|| పొందుగాని తమకాల బోధించ వచ్చీని | యిందరిలో నెక్కుడాయనిక నేలమ్మా |
అందపు శ్రీ వేంకటేశుడాదరించి కూడెనన్ను | నింద లెల్ల బాసె నెమ్మదినే యమ్మా ||
.
Pallavi
|| cUciti danasarita suddu lETikO yamma | cEcEta nika boMka jelladO yamma ||
Charanams
|| jaDisi lOtumATala jANatanA lADI nannu | taDivitE daladIsi takkiMcI namma |
ciDumuDi cillarapu sEtala mammu jenakI | paDucu mATala vAni pasayEmiTammA ||
|| A rIti nArxaDi beTTi yaMtalO naDugukonI | gOra boyyEdAni kiMta goDDa lElamma ||
sAreku mATa paTlu sAdhiMci naDacIni | tIrakuMDA jagaDAlu tidda boyyI nammA ||
|| poMdugAni tamakAla bOdhiMca vaccIni | yiMdarilO nekkuDAyanika nElammA |
aMdapu SrI vEMkaTESuDAdariMci kUDenannu | niMda lella bAse nemmadinE yammA ||
.

We will update this page , once we find comprehensive meaning. Feel free to contribute if you know.
.