Composer: Sri Tallapaka Annamacharya (Annamayya అన్నమయ్య) , May 9, 1408 – February 23, 1503 was born to Narayana Suri and Lakkamamba in Tallapaka, a village in current day Kadapa district of Andhra Pradesh. More….
Keerthana No. 419
Copper Sheet No. 171
Pallavi: Iddari bavamulunu (ఇద్దరి భావములును)
Ragam: Sudda Vasantham
Language: Telugu (తెలుగు)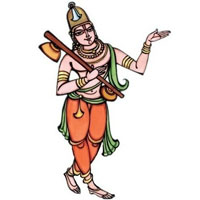 Recitals
Awaiting Contributions.
…
Awaiting Contributions.
[audio: audio-instrumental-file-name.mp3].
This Kriti was originally composed in Telugu. Other languages are for your convenience.
Pallavi
|| ఇద్దరి భావములును యీడుజోళ్ళాయ నిదె |
అడ్డుకొని తులదూగినట్టి చందమాయెను ||
Charanams
|| తళుకున నీవిప్పుడు తరుణి జూచితేను |
తొలకి చెక్కుచెమట దొరుగ జొచ్చె |
లలి మీరి ఆమెరుపులకు యీ తురుము మేఘ- |
మలరి వాన గురిసినట్టి చందమాయెను ||
|| చదురుమాటల నీవు జలజాక్షి బిలిచితే |
పొదిగొని నిలువెల్ల బులకించెను |
కదిసి ఆమాటల గాలికి యీమైదీగె |
అదనుగూడ ననిచినట్టి చందమాయెను ||
|| ననుపై శ్రీ వేంకటేశ నవ్వి నీవు గూడితేను |
యెనసి కామిని చిత్తమెల్ల గరగె |
వొనరి ఆ వెన్నెల కీ మనసనే చంద్రకాంత |
మనువుగా గరగినయట్టి చందమాయెను ||
.
Pallavi
|| iddari BAvamulunu yIDujOLLAya nide |
aDDukoni tuladUginaTTi caMdamAyenu ||
Charanams
|| taLukuna nIvippuDu taruNi jUcitEnu |
tolaki cekkucemaTa doruga jocce |
lali mIri Amerupulaku yI turumu mEGa- |
malari vAna gurisinaTTi caMdamAyenu ||
|| cadurumATala nIvu jalajAkShi bilicitE |
podigoni niluvella bulakiMcenu |
kadisi AmATala gAliki yImaidIge |
adanugUDa nanicinaTTi caMdamAyenu ||
|| nanupai SrI vEMkaTESa navvi nIvu gUDitEnu |
yenasi kAmini cittamella garage |
vonari A vennela kI manasanE caMdrakAMta |
manuvugA garaginayaTTi caMdamAyenu ||
.

We will update this page , once we find comprehensive meaning. Feel free to contribute if you know.
.