Composer: Sri Tallapaka Annamacharya (Annamayya అన్నమయ్య) , May 9, 1408 – February 23, 1503 was born to Narayana Suri and Lakkamamba in Tallapaka, a village in current day Kadapa district of Andhra Pradesh. More….
Keerthana No. 22
Copper Sheet No. 4
Pallavi: Indira Vaddimchi (ఇందిర వడ్డించి)
Ragam: Sriragam
Language: Telugu (తెలుగు)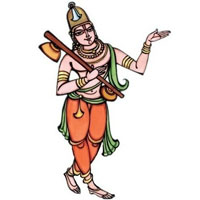 Recitals
Indira Vaddimchi | ఇందిర వడ్డించి
Album: Private | Voice: S.Janaki
Indira Vaddimchi | ఇందిర వడ్డించి
Album: Private | Voice: Unknown

Awaiting Contributions.
This Kriti was originally composed in Telugu. Other languages are for your convenience.
పల్లవి
ఇందిర వడ్డించి నింపుగును
చిందక యిట్లే భుజించవో స్వామి
చరణములు
1.అక్కాళపాశాలు నప్పాలు వడలు
పెక్త్కెనసయిదంపుపేణులును
సక్కేరరాసులు సద్యోఘృతములు
కిక్కిరియ నారగించవో స్వామి
2.మీరినకెళంగు మిరియపుదాళింపు
గూరలు కమ్మినికూరలును
సారంపుబచ్చళ్ళూ చవులుగ నిట్టే
కూరిమితో జేకోనవో స్వామి
3.పిండివంటలును బేరుగులు బాలు
మీండైనపాశాలు మేచ్చి మేచ్చి
కోండలపోడవు కోరి దివ్యాన్నాలు
వేండియు మెచ్చవే వేంకటస్వామి
.
Pallavi
indira vaDDimchi nimpugunu
chimdaka yiTlE BujimchavO sWAmi
Charanams
1.akkAlhapASAlu nappAlu vaDalu
pektkenasayidampupENulunu
sakkErarAsulu sadyOGRtamulu
kikkiriya nAragimchavO sWAmi
2.mIrinakelhamgu miriyapudAlhimpu
gUralu kamminikUralunu
sArampubacchalhlhuu chavuluga niTTE
kUrimitO jEkOnavO sWAmi
3.pimDivamTalunu bErugulu bAlu
mImDeinapASAlu mEcchi mEcchi
kOmDalapODavu kOri divyAnnAlu
vEmDiyu mecchavE vEmkaTasWAmi
.

We will update this page , once we find comprehensive meaning. Feel free to contribute if you know.
.