Composer: Sri Tallapaka Annamacharya (Annamayya అన్నమయ్య) , May 9, 1408 – February 23, 1503 was born to Narayana Suri and Lakkamamba in Tallapaka, a village in current day Kadapa district of Andhra Pradesh. More….
Keerthana No. 239
Copper Sheet No. 1340
Pallavi: InnitA ganudu (ఇన్నిటా ఘనుడు)
Ragam: Malavi Gowla
Language: Telugu (తెలుగు)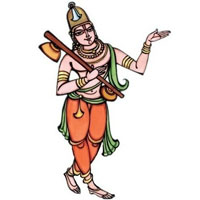 Recitals
Awaiting Contributions.
…
Awaiting Contributions.
[audio: audio-instrumental-file-name.mp3].
This Kriti was originally composed in Telugu. Other languages are for your convenience.
Pallavi
ఇన్నిటా ఘనుడు దాను యేమి చెప్పేరే
యెన్నుకోనీ నా గుణము లేమి చెప్పేరే ||
Charanams
1.చెంత దన చెప్పినట్టు సేసితినంటా నిదె
యేంత నన్ను బుజ్జగించీ నేమి చెప్పేరే
అంతటా దన కిచ్చక మాడితినంటా నిదె
ఇంతలో నన్ను బొగడీనేమి చెప్పేరే
2.వొట్టి తనపై పాటలు వొనర బాడితినంటా
ఇబ్డె విదెమిచ్చీని యేమి చెప్పేరే
జట్టిగా జన్నులతోడ సాము సేఇంచితి నంటా
యెట్టనెదుటనే మెచ్చీ నేమి చెప్పేరే ||
3.మనసు మర్మములంటా మంతన మాడితినంటా
యెనసి కౌగలించీ యేమి చెప్పేరే
చెనకి మొక్కితినంటా శ్రీ వేంకటేశ్వరుడు
ఇనుముడిగా మన్నించె నేమి చెప్పేరే ||
.
Pallavi
inniTA GanuDu dAnu yEmi cheppErE
yennukOnI nA guNamu lEmi cheppErE ||
Charanams
1.cheMta dana cheppinaTTu sEsitinaMTA nide
yEMta nannu bujjagiMchI nEmi cheppErE
aMtaTA dana kichchaka mADitinaMTA nide
iMtalO nannu bogaDInEmi cheppErE
2.voTTi tanapai pATalu vonara bADitinaMTA
ibDe videmichchIni yEmi cheppErE
jaTTigA jannulatODa sAmu sEiMchiti naMTA
yeTTaneduTanE mechchI nEmi cheppErE ||
3.manasu marmamulaMTA maMtana mADitinaMTA
yenasi kougaliMchI yEmi cheppErE
chenaki mokkitinaMTA SrI vEMkaTESvaruDu
inumuDigA manniMche nEmi cheppErE ||
.

We will update this page , once we find comprehensive meaning. Feel free to contribute if you know.
.