Composer: Sri Tallapaka Annamacharya (Annamayya అన్నమయ్య) , May 9, 1408 – February 23, 1503 was born to Narayana Suri and Lakkamamba in Tallapaka, a village in current day Kadapa district of Andhra Pradesh. More….
Keerthana No.572
Copper Sheet No. 1396
Pallavi:Kannavarevvaru (కన్నవారెవ్వరు)
Ragam: Salangam
Language: Telugu (తెలుగు)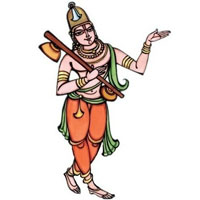 Recitals
Awaiting Contributions.
…
Awaiting Contributions.
[audio: audio-instrumental-file-name.mp3].
This Kriti was originally composed in Telugu. Other languages are for your convenience.
Pallavi
||కన్నవారెవ్వరు నేడు కాంతజవ్వనమిది
పన్నిన విభుడ నీభాగ్గ్యమాయగాక ||
Charanams
||పట్టబసయేది పడతి నడుము నేడు
బట్టబయలవు అందుభావనే కాదా
అట్టెట్టెనగనేది అంగన తురుము నేడు
పుట్టు మేఘమిట మింపోడవేగాదా ||
||యెంచగ జోటేది యింతికనుచూపులివి
కంచుమిచ్చులట చెప్పకధలేకాదా
పొంచి దాచ జోటేది పొలతి కుచములివి
పెంచెపుజక్కవలట బెదరేవే కావా ||
||తలపోత యేది కాంతకు శ్రీ వేంకటపతి
వలపట మతిపరవశమే కాదా
తలగ నోటేది తడబడే రతులలో
పలుకు బంతములెల్ల పదరుటే కాదా ||
.
Pallavi
||kannavArevvaru nEDu kAMtajavvanamidi
pannina vibhuDa nIbhAggyamAyagAka ||
Charanams
||paTTabasayEdi paDati naDumu nEDu
baTTabayalavu aMdubhAvanE kAdA
aTTeTTenaganEdi aMgana turumu nEDu
puTTu mEghamiTa miMpODavEgAdA ||
||yeMchaga jOTEdi yiMtikanuchUpulivi
kaMchumichchulaTa cheppakadhalEkAdA
poMchi dAcha jOTEdi polati kuchamulivi
peMchepujakkavalaTa bedarEvE kAvA ||
||talapOta yEdi kAMtaku SrI vEMkaTapati
valapaTa matiparavaSamE kAdA
talaga nOTEdi taDabaDE ratulalO
paluku baMtamulella padaruTE kAdA ||
.

We will update this page , once we find comprehensive meaning. Feel free to contribute if you know.
.