Composer: Sri Tallapaka Annamacharya (Annamayya అన్నమయ్య) , May 9, 1408 – February 23, 1503 was born to Narayana Suri and Lakkamamba in Tallapaka, a village in current day Kadapa district of Andhra Pradesh. More….
Keerthana No. 218
Copper Sheet No. PTS-37
Pallavi: Lokapu ni cetalaku (లోకపు నీ చేతలకు)
Ragam: Kannada Goula
Language: Telugu (తెలుగు)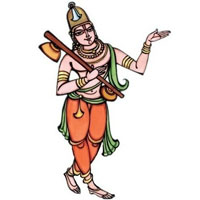 Recitals
Awaiting Contributions.
…
Awaiting Contributions.
[audio: audio-instrumental-file-name.mp3].
This Kriti was originally composed in Telugu. Other languages are for your convenience.
Pallavi
|| లోకపు నీ చేతలకు లోనేకాదా | నీకు మారుకొని యుండ నేరుపా నాకు ||
Charanams
|| వుడివోని జవ్వనము వొడిగట్టుకొని నీతో | పడిబెట్టి యలుగగ సంగతే నాకు |
చిడిముడి కోరికలు చిత్తములో నుండగాను | తడిసి నిన్ను బాయగ తగునా నాకు ||
|| వుప్పతిల్లు జన్నులు వురమున మోచుకొని | చిప్పిలనీ నేరాలెంచ జెల్లునా నాకు |
ముప్పిరి మొగమోటలు మోముమీద నుండగాను | అప్పుడే నిన్నణకించ ననువా నాకు ||
|| నించుకొన్న జవ్వనము నిలువున బెట్టుకొని | చండసేసి పెనగగ సరవే నాకు |
అండనే శ్రీవేంకటేశ అంతలో నన్నేలితివి | అందుకాచి దూరదగ నవునా నాకు ||
.
Pallavi
|| lOkapu nI cEtalaku lOnEkAdA | nIku mArukoni yuMDa nErupA nAku ||
Charanams
|| vuDivOni javvanamu voDigaTTukoni nItO | paDibeTTi yalugaga saMgatE nAku |
ciDimuDi kOrikalu cittamulO nuMDagAnu | taDisi ninnu bAyaga tagunA nAku ||
|| vuppatillu jannulu vuramuna mOcukoni | cippilanI nErAleMca jellunA nAku |
muppiri mogamOTalu mOmumIda nuMDagAnu | appuDE ninnaNakiMca nanuvA nAku ||
|| niMcukonna javvanamu niluvuna beTTukoni | caMDasEsi penagaga saravE nAku |
aMDanE SrIvEMkaTESa aMtalO nannElitivi | aMdukAci dUradaga navunA nAku ||
.

We will update this page , once we find comprehensive meaning. Feel free to contribute if you know.
.