Composer: Sri Tallapaka Annamacharya (Annamayya అన్నమయ్య) , May 9, 1408 – February 23, 1503 was born to Narayana Suri and Lakkamamba in Tallapaka, a village in current day Kadapa district of Andhra Pradesh. More….
Keerthana No. 125
Copper Sheet No. 321
Pallavi: Marudu Sesina (మరుడు సేసిన)
Ragam: Kannada Goula
Language: Telugu (తెలుగు)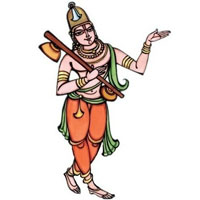 Recitals
Awaiting Contributions.
…
Awaiting Contributions.
[audio: audio-instrumental-file-name.mp3].
This Kriti was originally composed in Telugu. Other languages are for your convenience.
pallavi
|| మరుడు సేసిన మాయ మగలకు నాండ్లకు | విరసాలు పుట్టవు వేడుకే కాని ||
Charanams
|| యెంత దూరి మాటాడినా యింపులయ్యే వుండుగాని | పంతము రేగ దింతిపై బతికి |
పొంత నుండి సారె బొమ్మల జంకించినాను | వింతలు దోచవు మరి వేడుకే గాని ||
|| చలపట్టి సరసము జరయుచు నాడినాను | అలయిక పుట్టదు దేహమునకును |
పెలుచుదనాన మరి పెనగులా టాడినాను | వెలయ వేసట గాదు వేడుకే కాని ||
|| మిన్నక కొసరి మందెమేళ మెంత సేసినాను | అన్నిటాలోలో నెగ్గులై మించవు |
యెన్నగ శ్రీ వేంకటేశుడే నలమేలు మంగను | విన్నప్పుడే కూడె మాకు వేడుకలె కాని ||
.
Pallavi
||maruDu sEsina mAya magalaku nAMDlaku | virasAlu puTTavu vEDukE kAni ||
Charanams
||yeMta dUri mATADinA yiMpulayyE vuMDugAni | paMtamu rEga diMtipai batiki |
poMta nuMDi sAre bommala jaMkiMcinAnu | viMtalu dOcavu mari vEDukE gAni ||
||calapaTTi sarasamu jarayucu nADinAnu | alayika puTTadu dEhamunakunu |
pelucudanAna mari penagulA TADinAnu | velaya vEsaTa gAdu vEDukE kAni ||
||minnaka kosari maMdemELa meMta sEsinAnu | anniTAlOlO neggulai miMcavu |
yennaga SrI vEMkaTESuDE nalamElu maMganu | vinnappuDE kUDe mAku vEDukale kAni ||
.

We will update this page , once we find comprehensive meaning. Feel free to contribute if you know.
.