Composer: Sri Tallapaka Annamacharya (Annamayya అన్నమయ్య) , May 9, 1408 – February 23, 1503 was born to Narayana Suri and Lakkamamba in Tallapaka, a village in current day Kadapa district of Andhra Pradesh. More….
Keerthana No. 51
Copper Sheet No. 8
Pallavi: Nadulolluvu (నదులోల్లువు)
Ragam: mukhari
Language: Telugu (తెలుగు)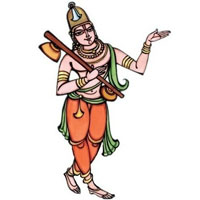 Recitals
Awaiting Contributions.
…
Awaiting Contributions.
[audio: audio-instrumental-file-name.mp3].
This Kriti was originally composed in Telugu. Other languages are for your convenience.
పల్లవి
నదులోల్లువు నాస్నానము కడు
సదరము నా కీస్నానము
చరణములు
1.ఇరువంకల ంనీమేచినముద్రలు
ధరియించిటె నాస్నానము
ధరపై నీనిజదాసులదాసుల
చరణధూళి నాస్నానము
2.తలఁపులోన నినుఁదలఁచినవరలఁ
దలఁచుటే నాస్నానము
వలనుగ నినుఁనువారలశ్రీపాద
జలములే నాస్నానము
3.పరమభాగవతపాదాంబుజముల
దరుశనమే నాస్నానము
తిరువేంకటగిరిదేవ నీకధా
స్మరణమే నాస్నానము
.
Pallavi
nadulOlluvu nAsnAnamu kaDu
sadaramu nA kIsnAnamu
Charanams
1.iruvamkala MnImEchinamudralu
dhariyimchiTe nAsnAnamu
dharapai nInijadAsuladAsula
charaNadhUlhi nAsnAnamu
2.tala@mpulOna ninu@mdala@mchinavarala@m
dala@mchuTE nAsnAnamu
valanuga ninu@mnuvAralaSrIpAda
jalamulE nAsnAnamu
3.paramabhAgavatapAdAmbujamula
daruSanamE nAsnAnamu
tiruvEmkaTagiridEva nIkadhA
smaraNamE nAsnAnamu
.

We will update this page , once we find comprehensive meaning. Feel free to contribute if you know.
.