Composer: Sri Tallapaka Annamacharya (Annamayya అన్నమయ్య) , May 9, 1408 – February 23, 1503 was born to Narayana Suri and Lakkamamba in Tallapaka, a village in current day Kadapa district of Andhra Pradesh. More….
Keerthana No. 558
Copper Sheet No. 1093
Pallavi: Nede nagavelli (నేడె నాగవెల్లి)
Ragam: Ramakriya
Language: Telugu (తెలుగు)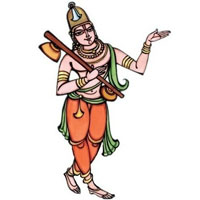 Recitals
Nede Nagavalli Nede | నేడే నాగవల్లి నేడే
Album: Private | Voice: S.Janaki
Nede Nagavalli Nede | నేడే నాగవల్లి నేడే
Album: Private | Voice: Unknown

Awaiting Contributions.
This Kriti was originally composed in Telugu. Other languages are for your convenience.
Pallavi
నేడె నాగవెల్లి నేడే ఇల్లునింపులు
పోడిమి గోవిందపతి భోగించీ నిదివో
Charanams
1.అల్లదే దేవుని రథ మల్లదే గరుడ ద్వజ-
మెల్ల లోకములు గెల్చి యేగీనదే
ఇల్లిదే లక్ష్మీ భూము లిద్దరు దేవుళ్ళు (వీరె)
చల్లేరు శాసలు తాము సరికి బేసికిని
2.సేనాపతి అల్లవాడె చేరి దేవతలు వారె
శ్రీనారాయణుడు చెలగీ నదే
ఆనుక అడుగడుగడుకు ఆరగించీ వీధులను
వానలుగా అందరికీ వరము లొసగుచు
3.దేవదుందుభులు మ్రోసె దిక్కులెల్లా చల్లనాయె
శ్రీ వేంకటేశుడితడె చిత్తగించీని
సేవించరో భావించరో జీవులాల బ్రతుకుడు
వేవేలు శోభనముల వేడుక కాడితడు ||
.
Pallavi
nEDe nAgavelli nEDE illuniMpulu
pODimi gOvimdapati bhOgiMchI nidivO
Charanams
1.alladE dEvuni ratha malladE garuDa dwaja-
mella lOkamulu gelchi yEgInadE
illidE lakshmI bhUmu liddaru dEvuLLu (vIre)
challEru SAsalu tAmu sariki bEsikini
2.sEnApati allavADe chEri dEvatalu vAre
SrInArAyaNuDu chelagI nadE
Anuka aDugaDugaDuku AragiMchI vIdhulanu
vAnalugA aMdarikI varamu losaguchu
3.dEvaduMdubhulu mrOse dikkulellA challanAye
SrI vEMkaTESuDitaDe chittagiMchIni
sEviMcharO bhAviMcharO jIvulAla bratukuDu
vEvElu SObhanamula vEDuka kADitaDu ||
.

We will update this page , once we find comprehensive meaning. Feel free to contribute if you know.
.