Composer: Sri Tallapaka Annamacharya (Annamayya అన్నమయ్య), May 9, 1408 – February 23, 1503 was born to Narayana Suri and Lakkamamba in Tallapaka, a village in current day Kadapa district of Andhra Pradesh. More….
Keerthana No. 263 ; Volume No. 2
Copper Sheet No. 156
Pallavi: Neechittamu Nabhaagyamu (నీచిత్తము నాభాగ్యము)
Ragam: Sankaraabharanam
Language: Telugu (తెలుగు)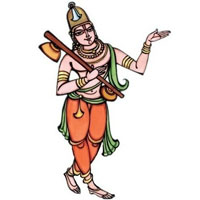 Recitals

Awaiting Contributions.

Awaiting Contributions.
This Kriti was originally composed in Telugu. Other languages are for your convenience.
Pallavi
|| nIcittamu nABAgyamu nE neMtaTivADanu | yEci nIvu rakShiMcEdE yekkuDupuNya miMtE ||
Charanams
|| pATiMci nIBAvamu paTTavaSamA talaci | mETinAmanasu nIku mIdettuTiMtE |
nUTikaina nInAmamu nuDugagavaSamA | mATalu nIselavugA nuTTupeTTu TiMtE ||
|| vEvElaina nIkathalu vinaga nAtaramA | sOvagA vInulu tAvu cUpuTa yiMtE |
dEva nIsAkAramu driShTiMcanAvaSamA | pAvanamugA naMdulO banigonu TiMtE ||
|| gaTTigA ninnu bUjiMca gammaTi nAvasamA | neTTana nAmEnu nIku nEmiMcu TiMtE |
paTTapalamElmaMgapativi SrIvEMkaTESa | jaTTigonukoraku nISaraNanu TiMtE ||


We will update this page , once we find comprehensive meaning. Feel free to contribute if you know.