Composer: Sri Tallapaka Annamacharya (Annamayya అన్నమయ్య), May 9, 1408 – February 23, 1503 was born to Narayana Suri and Lakkamamba in Tallapaka, a village in current day Kadapa district of Andhra Pradesh. More….
Keerthana No. 441 ; Volume No. 2
Copper Sheet No. 187
Pallavi: Neesommu Chedakunda (నీసొమ్ము చెడకుండ)
Ragam: Saamantham
Language: Telugu (తెలుగు)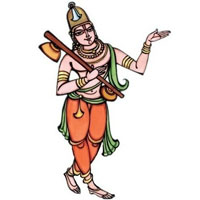 Recitals

Awaiting Contributions.

Awaiting Contributions.
This Kriti was originally composed in Telugu. Other languages are for your convenience.
Pallavi
|| nIsommu ceDakuMDa nIvu cUcukonavayya | dAsuDa nE niMtE daivamavu nIvu ||
Charanams
|| lOkamu lEluduvaTa lOkamulOpalinEnu | paikoni nI vElinaTTibaMTanEsummI |
AkaDa nAvu goMTE nAvu veMTa dUDayunu | jOkala gonnaTTivArisommE kAdA ||
|| cEri nannu nIvE puTTiMcitivaTa nE jEsE- | mEratO buNyapApAlu mIvEsummI |
Aruga vittinavADu ArugalOpalikaMdi | AritEri paMDitEnu AtanidEkAdA ||
|| SrIvEMkaTESa nIvu jIvAMtarAtmavaTa | kAviMci nApAla galavEsummI |
kaivasamai caMduruDu kaluvalajAtikella | BAviMpa sarvavidhabaMdhuvEkADA ||
.

We will update this page , once we find comprehensive meaning. Feel free to contribute if you know.
.