Composer: Muttukumaraswamy (मुत्तुकुमर स्वम्य) popularly known as Muthuswamy Dikshithar (முத்துஸ்வாமி தீக்ஷிதர் – ముత్తుస్వామీ డిక్షితర్), (March 24, 1775 – October 21, 1835) was born in Tiruvarur (of Thanjavur district of Tamil Nadu) to a Tamil Iyer Brahmin couple Ramaswami Dikshitar and Subbamma, as the eldest son. He also had two younger brothers Baluswami, Chinnaswami and a sister Balambal.Chidambaranatha Yogi was his guru. More…

Raagam: Gaula
Taalam: Tisra Triputa
Diety: Vinayaka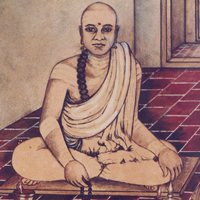 .
Recitals
Album: Unknown | Voice: C.V. Bhagavathar
Album: Unknown | Voice: M.D.Ramanathan
Album: Unknown | Voice: M.S.Subbulakshmi

Awaiting Contributions.

We believe this kriti was originally composed in sanskrit. Other languages are for your convenience.
శ్రీ మహా గణ పతిరవతు మామ్ – రాగం గౌళ – తాళం తిశ్ర త్రిపుట
పల్లవి
శ్రీ మహా గణ పతిరవతు మాం
సిద్ధి వినాయకో మాతంగ ముఖః
అనుపల్లవి
కామ జనక విధీంద్ర సన్నుత –
కమలాలయ తట నివాసో
(మధ్యమ కాల సాహిత్యమ్)
కోమళ-తర పల్లవ పద కర –
గురు గుహాగ్రజః శివాత్మజః
చరణమ్
సువర్ణాకర్షణ విఘ్న రాజో
పాదాంబుజో గౌర వర్ణ వసన ధరో
ఫాల చంద్రో నరాది వినుత లంబోదరో
కువలయ స్వవిషాణ పాశాంకుశ –
మోదక ప్రకాశ కరో భవ జలధి నావో
మూల ప్రకృతి స్వభావస్సుఖ-తరో
(మధ్యమ కాల సాహిత్యమ్)
రవి సహస్ర సన్నిభ దేహో
కవి జన నుత మూషిక వాహో
అవ నత దేవతా సమూహో
అవినాశ కైవల్య గేహో
variations:
చరణమ్ –
స్వభావస్సుఖ-తరో – స్వభావ సుఖ-తరో
అవినాశ – అవినాశి
కైవల్య గేహో – కైవల్య గేహః – కైవల్య దేహో
.
ஸ்ரீ மஹா கண பதிரவது மாம் – ராகம் கௌள – தாளம் திஸ்ர த்ரிபுட
பல்லவி
ஸ்ரீ மஹா கண பதிரவது மாம்
ஸித்தி வினாயகோ மாதங்க முக:
அனுபல்லவி
காம ஜனக விதீந்த்ர ஸன்னுத –
கமலாலய தட நிவாஸோ
(மத்யம கால ஸாஹித்யம்)
கோமள-தர பல்லவ பத கர –
குரு குஹாக்ரஜ: ஸிவாத்மஜ:
சரணம்
ஸுவர்ணாகர்ஷண விக்ன ராஜோ
பாதா3ம்புஜோ கௌ3ர வர்ண வஸன தரோ
பால சந்த்ரோ நராதி வினுத லம்போதரோ
குவலய ஸ்வவிஷாண பாஸாங்குஸ –
மோதக ப்ரகாஸ கரோ பவ ஜலதி நாவோ
மூல ப்ரக்ருதி ஸ்வபாவஸ்ஸுக தரோ
(மத்யம கால ஸாஹித்யம்)
ரவி ஸஹஸ்ர ஸன்னிப தேஹோ
கவி ஜன நுத மூஷிக வாஹோ
அவ நத தேவதா ஸமூஹோ
அவினாஸ கைவல்ய கே3ஹோ
variations:
சரணம் –
ஸ்வபாவஸ்ஸுக-தரோ – ஸ்வபாவ ஸுக-தரோ
அவினாஸ – அவினாஸி
கைவல்ய கேஹோ – கைவல்ய கேஹ: – கைவல்ய தேஹோ
.
ಶ್ರೀ ಮಹಾ ಗಣ ಪತಿರವತು ಮಾಮ್ – ರಾಗಂ ಗೌಳ – ತಾಳಂ ತಿಶ್ರ ತ್ರಿಪುಟ
ಪಲ್ಲವಿ
ಶ್ರೀ ಮಹಾ ಗಣ ಪತಿರವತು ಮಾಂ
ಸಿದ್ಧಿ ವಿನಾಯಕೋ ಮಾತಂಗ ಮುಖಃ
ಅನುಪಲ್ಲವಿ
ಕಾಮ ಜನಕ ವಿಧೀಂದ್ರ ಸನ್ನುತ –
ಕಮಲಾಲಯ ತಟ ನಿವಾಸೋ
(ಮಧ್ಯಮ ಕಾಲ ಸಾಹಿತ್ಯಮ್)
ಕೋಮಳ-ತರ ಪಲ್ಲವ ಪದ ಕರ –
ಗುರು ಗುಹಾಗ್ರಜಃ ಶಿವಾತ್ಮಜಃ
ಚರಣಮ್
ಸುವರ್ಣಾಕರ್ಷಣ ವಿಘ್ನ ರಾಜೋ
ಪಾದಾಂಬುಜೋ ಗೌರ ವರ್ಣ ವಸನ ಧರೋ
ಫಾಲ ಚಂದ್ರೋ ನರಾದಿ ವಿನುತ ಲಂಬೋದರೋ
ಕುವಲಯ ಸ್ವವಿಷಾಣ ಪಾಶಾಂಕುಶ –
ಮೋದಕ ಪ್ರಕಾಶ ಕರೋ ಭವ ಜಲಧಿ ನಾವೋ
ಮೂಲ ಪ್ರಕೃತಿ ಸ್ವಭಾವಸ್ಸುಖ-ತರೋ
(ಮಧ್ಯಮ ಕಾಲ ಸಾಹಿತ್ಯಮ್)
ರವಿ ಸಹಸ್ರ ಸನ್ನಿಭ ದೇಹೋ
ಕವಿ ಜನ ನುತ ಮೂಷಿಕ ವಾಹೋ
ಅವ ನತ ದೇವತಾ ಸಮೂಹೋ
ಅವಿನಾಶ ಕೈವಲ್ಯ ಗೇಹೋ
variations:
ಚರಣಮ್ –
ಸ್ವಭಾವಸ್ಸುಖ-ತರೋ – ಸ್ವಭಾವ ಸುಖ-ತರೋ
ಅವಿನಾಶ – ಅವಿನಾಶಿ
ಕೈವಲ್ಯ ಗೇಹೋ – ಕೈವಲ್ಯ ಗೇಹಃ – ಕೈವಲ್ಯ ದೇಹೋ
.
श्री महा गण पतिरवतु माम् – रागं गौळ – ताळं तिश्र त्रिपुट
पल्लवि
श्री महा गण पतिरवतु मां
सिद्धि विनायको मातङ्ग मुखः
अनुपल्लवि
काम जनक विधीन्द्र सन्नुत –
कमलालय तट निवासो
(मध्यम काल साहित्यम्)
कोमळ-तर पल्लव पद कर –
गुरु गुहाग्रजः शिवात्मजः
चरणम्
सुवर्णाकर्षण विघ्न राजो
पादाम्बुजो गौर वर्ण वसन धरो
फाल चन्द्रो नरादि विनुत लम्बोदरो
कुवलय स्वविषाण पाशाङ्कुश –
मोदक प्रकाश करो भव जलधि नावो
मूल प्रकृति स्वभावस्सुख-तरो
(मध्यम काल साहित्यम्)
रवि सहस्र सन्निभ देहो
कवि जन नुत मूषिक वाहो
अव नत देवता समूहो
अविनाश कैवल्य गेहो
variations:
चरणम् –
स्वभावस्सुख-तरो – स्वभाव सुख-तरो
अविनाश – अविनाशि
कैवल्य गेहो – कैवल्य गेहः – कैवल्य देहो
.
pallavi
SrI mahA gaNa patiravatu mAM
siddhi vinAyakO mAtanga mukhaH
anupallavi
kAma janaka vidhIndra sannuta –
kamalAlaya taTa nivAsO
(madhyama kAla sAhityam)
kOmaLa-tara pallava pada kara –
guru guhAgrajaH SivAtmajaH
caraNam
suvarNAkarshaNa vighna rAjO
pAdAmbujO gaura varNa vasana dharO
phAla candrO narAdi vinuta lambOdarO
kuvalaya svavishANa pASAnkuSa –
mOdaka prakASa karO bhava jaladhi nAvO
mUla prakRti svabhAvassukha-tarO
(madhyama kAla sAhityam)
ravi sahasra sannibha dEhO
kavi jana nuta mUshika vAhO
ava nata dEvatA samUhO
avinASa kaivalya gEhO
variations:
caraNam –
svabhAvassukha-tarO – svabhAva sukha-tarO
avinASa – avinASi
kaivalya gEhO – kaivalya gEhaH – kaivalya dEhO
.
ശ്രീ മഹാ ഗണ പതിരവതു മാമ് – രാഗം ഗൌള – താളം തിശ്ര ത്രിപുട
പല്ലവി
ശ്രീ മഹാ ഗണ പതിരവതു മാം
സിദ്ധി വിനായകോ മാതങ്ഗ മുഖഃ
അനുപല്ലവി
കാമ ജനക വിധീന്ദ്ര സന്നുത –
കമലാലയ തട നിവാസോ
(മധ്യമ കാല സാഹിത്യമ്)
കോമള-തര പല്ലവ പദ കര –
ഗുരു ഗുഹാഗ്രജഃ ശിവാത്മജഃ
ചരണമ്
സുവര്ണാകര്ഷണ വിഘ്ന രാജോ
പാദാമ്ബുജോ ഗൌര വര്ണ വസന ധരോ
ഫാല ചന്ദ്രോ നരാദി വിനുത ലമ്ബോദരോ
കുവലയ സ്വവിഷാണ പാശാങ്കുശ –
മോദക പ്രകാശ കരോ ഭവ ജലധി നാവോ
മൂല പ്രകൃതി സ്വഭാവസ്സുഖ-തരോ
(മധ്യമ കാല സാഹിത്യമ്)
രവി സഹസ്ര സന്നിഭ ദേഹോ
കവി ജന നുത മൂഷിക വാഹോ
അവ നത ദേവതാ സമൂഹോ
അവിനാശ കൈവല്യ ഗേഹോ
variations:
ചരണമ് –
സ്വഭാവസ്സുഖ-തരോ – സ്വഭാവ സുഖ-തരോ
അവിനാശ – അവിനാശി
കൈവല്യ ഗേഹോ – കൈവല്യ ഗേഹഃ – കൈവല്യ ദേഹോ
.
Pallavi:
Let ShriMahaganapathi protect me; the Siddhi Vinayaka,the elephant-faced one.
Anupallavi:
The one extolled by Vishnu the father of cupid 1, Brahma and Indra and the one that dwells on the banks of the Kamalalaya tank2 .the one with tender sprout-like feet and hands, the elder brother of guruguha; the son of Shiva.
Charanam:
The vighnaraja form called swarnakarshana Ganapati 3, the one with lotus-like feet, the one wearing white robes, the one wearing the moon on his forehead,the pot-bellied one worshipped by all creatures including humans, the one whose hands bear the insignia of a lotus, broken -tusk,noose,goad, and modaka, the boat that helps cross the ocean of life, the form of primordial nature, the form of bliss, the one resplendent like a thousand suns, the one who has a rat for a vehicle , the one who is worshipped by poets, the one who has the hordes of Devas worshipping him,the the one capable of bestowing immortality
.