Composer: Muttukumaraswamy (முத்துகுமாரச்வாமி) popularly known as Muthuswamy Dikshithar (முத்துஸ்வாமி தீக்ஷிதர் – ముత్తుస్వామీ డిక్షితర్), (March 24, 1775 – October 21, 1835) was born in Tiruvarur (of Thanjavur district of Tamil Nadu) to a Tamil Iyer Brahmin couple Ramaswami Dikshitar and Subbamma, as the eldest son. He also had two younger brothers Baluswami, Chinnaswami and a sister Balambal.Chidambaranatha Yogi was his guru. More…

Raagam: Paraju
Taalam: Ata
Diety: Navagraha Krithis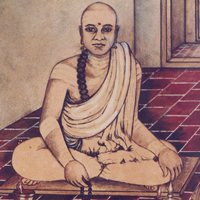 .
Recitals
Album: Unknown | Voice: Vijaya Siva
Album: Unknown | Voice: Madurai Mani Iyer

Awaiting Contributions.

We believe this kriti was originally composed in sanskrit. Other languages are for your convenience.
పల్లవి
శ్రీ శుక్ర భగవంతం చింతయామి సంతతం
సకల తత్త్వజ్ఞం
అనుపల్లవి
హే శుక్ర భగవన్ మాం ఆశు పాలయ
వృష తులాధీశ దైత్య హితోపదేశ
(మధ్యమ కాల సాహిత్యం)
కేశవ కటాక్షైక నేత్రం
కిరీట ధరం ధవళ గాత్రం
చరణము
వింశతి వత్సరోడుదశ విభాగం
అష్ట వర్గం
కవిం కళత్ర కారకం
రవి నిర్జర గురు వైరిణం
నవాంశ హోరాద్రేక్కాణాది –
వర్గోత్తమావసర సమయే –
వక్రోచ్చ నీచ స్వ-క్షేత్ర –
వర కేంద్ర మూల త్రి-కోణే –
(మధ్యమ కాల సాహిత్యం)
త్రింశాంశ షష్ట్యాంశైరావతాంశ –
పారిజాతాంశ గోపురాంశ –
రాజ యోగ కారకం
రాజ్య ప్రదం గురు గుహ ముదం
variations
అట – ఖండ అట
హితోపదేశ – హితోపదేశం
వత్సరోడుదశ – వత్సరోడుదశా
.
பல்லவி
ஸ்ரீ ஸு1க்ர ப4க3வந்தம் சிந்தயாமி ஸந்ததம்
ஸகல தத்த்வக்3ஞம்
அனுபல்லவி
ஹே ஸு1க்ர ப4க3வன் மாம் ஆஸு1 பாலய
வ்ரு2ஷ துலாதீ4ஸ1 தை3த்ய ஹிதோபதே3ஸ1
(மத்4யம கால ஸாஹித்யம்)
கேஸ1வ கடாக்ஷைக நேத்ரம்
கிரீட த4ரம் த4வள கா3த்ரம்
சரணம்
விம்ஸ1தி வத்ஸரோடு3த3ஸ1 விபா4க3ம்
அஷ்ட வர்க3ம்
கவிம் களத்ர காரகம்
ரவி நிர்ஜர கு3ரு வைரிணம்
நவாம்ஸ1 ஹோராத்3ரேக்காணாதி3 –
வர்கோ3த்தமாவஸர ஸமயே –
வக்ரோச்ச நீச ஸ்வ-க்ஷேத்ர –
வர கேந்த்3ர மூல த்ரி-கோணே –
(மத்4யம கால ஸாஹித்யம்)
த்ரிம்ஸா1ம்ஸ1 ஷஷ்ட்யாம்ஸை1ராவதாம்ஸ1 –
பாரிஜாதாம்ஸ1 கோ3புராம்ஸ1 –
ராஜ யோக3 காரகம்
ராஜ்ய ப்ரத3ம் கு3ரு கு3ஹ முத3ம்
variations
அட – க2ண்ட3 அட
ஹிதோபதே3ஸ1 – ஹிதோபதே3ஸ1ம்
வத்ஸரோடு3த3ஸ1 – வத்ஸரோடு3த3ஸா1
.
ಪಲ್ಲವಿ
ಶ್ರೀ ಶುಕ್ರ ಭಗವಂತಂ ಚಿಂತಯಾಮಿ ಸಂತತಂ
ಸಕಲ ತತ್ತ್ವಜ್ಞಂ
ಅನುಪಲ್ಲವಿ
ಹೇ ಶುಕ್ರ ಭಗವನ್ ಮಾಂ ಆಶು ಪಾಲಯ
ವೃಷ ತುಲಾಧೀಶ ದೈತ್ಯ ಹಿತೋಪದೇಶ
(ಮಧ್ಯಮ ಕಾಲ ಸಾಹಿತ್ಯಂ)
ಕೇಶವ ಕಟಾಕ್ಷೈಕ ನೇತ್ರಂ
ಕಿರೀಟ ಧರಂ ಧವಳ ಗಾತ್ರಂ
ಚರಣಂ
ವಿಂಶತಿ ವತ್ಸರೋಡುದಶ ವಿಭಾಗಂ
ಅಷ್ಟ ವರ್ಗಂ
ಕವಿಂ ಕಳತ್ರ ಕಾರಕಂ
ರವಿ ನಿರ್ಜರ ಗುರು ವೈರಿಣಂ
ನವಾಂಶ ಹೋರಾದ್ರೇಕ್ಕಾಣಾದಿ –
ವರ್ಗೋತ್ತಮಾವಸರ ಸಮಯೇ –
ವಕ್ರೋಚ್ಚ ನೀಚ ಸ್ವ-ಕ್ಷೇತ್ರ –
ವರ ಕೇಂದ್ರ ಮೂಲ ತ್ರಿ-ಕೋಣೇ –
(ಮಧ್ಯಮ ಕಾಲ ಸಾಹಿತ್ಯಂ)
ತ್ರಿಂಶಾಂಶ ಷಷ್ಟ್ಯಾಂಶೈರಾವತಾಂಶ –
ಪಾರಿಜಾತಾಂಶ ಗೋಪುರಾಂಶ –
ರಾಜ ಯೋಗ ಕಾರಕಂ
ರಾಜ್ಯ ಪ್ರದಂ ಗುರು ಗುಹ ಮುದಂ
variations
ಅಟ – ಖಂಡ ಅಟ
ಹಿತೋಪದೇಶ – ಹಿತೋಪದೇಶಂ
ವತ್ಸರೋಡುದಶ – ವತ್ಸರೋಡುದಶಾ
.
पल्लवि
श्री शुक्र भगवन्तं चिन्तयामि सन्ततं
सकल तत्त्वज्ञम्
अनुपल्लवि
हे शुक्र भगवन् मां आशु पालय
वृष तुलाधीश दैत्य हितोपदेश
(मध्यम काल साहित्यम्)
केशव कटाक्षैक नेत्रं
किरीट धरं धवळ गात्रम्
चरणम्
विंशति वत्सरोडुदश विभागं
अष्ट वर्गं
कविं कळत्र कारकं
रवि निर्जर गुरु वैरिणं
नवांश होराद्रेक्काणादि –
वर्गोत्तमावसर समये –
वक्रोच्च नीच स्व-क्षेत्र –
वर केन्द्र मूल त्रि-कोणे –
(मध्यम काल साहित्यम्)
त्रिंशांश षष्ट्यांशैरावतांश –
पारिजातांश गोपुरांश –
राज योग कारकं
राज्य प्रदं गुरु गुह मुदम्
variations
अट – खण्ड अट
हितोपदेश – हितोपदेशम्
वत्सरोडुदश – वत्सरोडुदशा
.
pallavi
SrI Sukra bhagavantaM cintayAmi santataM
sakala tattvajnam
anupallavi
hE Sukra bhagavan mAM ASu pAlaya
vRsha tulAdhISa daitya hitOpadESa
(madhyama kAla sAhityam)
kESava kaTAkshaika nEtraM
kirITa dharaM dhavaLa gAtram
caraNam
viMSati vatsarODudaSa vibhAgaM
ashTa vargaM
kaviM kaLatra kArakaM
ravi nirjara guru vairiNaM
navAMSa hOrAdrEkkANAdi –
vargOttamAvasara samayE –
vakrOcca nIca sva-kshEtra –
vara kEndra mUla tri-kONE –
(madhyama kAla sAhityam)
triMSAMSa shashTyAMSairAvatAMSa –
pArijAtAMSa gOpurAMSa –
rAja yOga kArakaM
rAjya pradaM guru guha mudam
variations
aTa – khaNDa aTa
hitOpadESa – hitOpadESam
vatsarODudaSa – vatsarODudaSA
.
പല്ലവി
ശ്രീ ശുക്ര ഭഗവന്തം ചിന്തയാമി സന്തതം
സകല തത്ത്വജ്ഞമ്
അനുപല്ലവി
ഹേ ശുക്ര ഭഗവന്‍ മാം ആശു പാലയ
വൃഷ തുലാധീശ ദൈത്യ ഹിതോപദേശ
(മധ്യമ കാല സാഹിത്യമ്)
കേശവ കടാക്ഷൈക നേത്രം
കിരീട ധരം ധവള ഗാത്രമ്
ചരണമ്
വിംശതി വത്സരോഡുദശ വിഭാഗം
അഷ്ട വര്ഗം
കവിം കളത്ര കാരകം
രവി നിര്ജര ഗുരു വൈരിണം
നവാംശ ഹോരാദ്രേക്കാണാദി –
വര്ഗോത്തമാവസര സമയേ –
വക്രോച്ച നീച സ്വ-ക്ഷേത്ര –
വര കേന്ദ്ര മൂല ത്രി-കോണേ –
(മധ്യമ കാല സാഹിത്യമ്)
ത്രിംശാംശ ഷഷ്ട്യാംശൈരാവതാംശ –
പാരിജാതാംശ ഗോപുരാംശ –
രാജ യോഗ കാരകം
രാജ്യ പ്രദം ഗുരു ഗുഹ മുദമ്
variations
അട – ഖണ്ഡ അട
ഹിതോപദേശ – ഹിതോപദേശമ്
വത്സരോഡുദശ – വത്സരോഡുദശാ
.
Pallavi :
I think of Lord Shukra; the knower of all tatvas.
AnuPallavi:
O Lord Shukra! Save me quickly; the Lord of t he houses of Taurus & Libra The one who advices tactically to the asuras;
the one who has only one eye due to the grace of Vishnu ; the one wearing a crown; the white-hued one.
Charanam:
The one who has an udu – desha of 20 years, the one who has eight vargas, the significator of spouse; the enemy of the sun and of brhaspati – the perceptor of the devas, the one who when in vargottama, in navamsha, hora, drekkana, is in vakra, exaltation, affliction, trines & Moolatrikona, When in trimshamsha shashtyamsha ,airavatamsha, parijatamsha and gopuramsha bestows raja yoga and gives kingdom. The one who pleases guruguha.
.