Composer: Sri Tallapaka Annamacharya (Annamayya అన్నమయ్య) , May 9, 1408 – February 23, 1503 was born to Narayana Suri and Lakkamamba in Tallapaka, a village in current day Kadapa district of Andhra Pradesh. More….
Keerthana No.221
Copper Sheet No.148
Pallavi: SrI Vemkatesvaruni (శ్రీ వేంకటేశ్వరుని)
Ragam: Ramakriya
Language: Telugu (తెలుగు)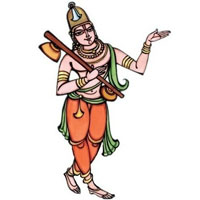 Recitals
Awaiting Contributions.
…
Awaiting Contributions.
[audio: audio-instrumental-file-name.mp3].
This Kriti was originally composed in Telugu. Other languages are for your convenience.
Pallavi
|| శ్రీ వేంకటేశ్వరుని సింగారము వర్ణించితే | యే విధాన దలచిన యిన్నటికి దగును ||
Charanam
|| కరిరాజు గాచిన చక్రము పట్టిన హస్తము | కరి తుండమని చెప్పగా నమరును |
వరములిచ్చేయట్టి వరద హస్తము కల్ప- | తరు శాఖయని పొలుప దగు నీకును ||
|| జలధి బుట్టిన పాంచజన్య హస్తము నీకు | జలధి తరగయని చాటవచ్చును |
బలు కాళింగుని తోక పట్టిన కటి హస్తము | పొలుపై ఫణీంద్రుడని పొగడగ దగును ||
|| నలిన హస్తంబుల నడుమనున్న నీయుర- | మలమేలు మంగ కిరవన దగును |
బలు శ్రీ వేంకట గిరిపై నెలకొన్న నిన్ను | నలరి శ్రీ వేంకటేశుడన దగును ||
.
Pallavi
SrI vEMkaTESvaruni siMgAramu varNiMcitE | yE vidhAna dalachina yinnaTiki dagunu ||
Charanam
||| karirAju gAcina cakramu paTTina hastamu | kari tuMDamani ceppagA namarunu |
varamuliccEyaTTi varada hastamu kalpa- | taru SAKayani polupa dagu nIkunu ||
|| jaladhi buTTina pAMcajanya hastamu nIku | jaladhi taragayani cATavaccunu |
balu kALiMguni tOka paTTina kaTi hastamu | polupai PaNIMdruDani pogaDaga dagunu ||
|| nalina hastaMbula naDumanunna nIyura- | malamElu maMga kiravana dagunu |
balu SrI vEMkaTa giripai nelakonna ninnu | nalari SrI vEMkaTESuDana dagunu ||
.

We will update this page , once we find comprehensive meaning. Feel free to contribute if you know.
.