Composer: Sri Tallapaka Annamacharya (Annamayya అన్నమయ్య) , May 9, 1408 – February 23, 1503 was born to Narayana Suri and Lakkamamba in Tallapaka, a village in current day Kadapa district of Andhra Pradesh. More….
Keerthana No. 217
Copper Sheet No. 68
Pallavi: Vetakadanamta Navemta (వేఁటకాఁడనంట నా వెంట)
Ragam: Sankarabharanam
Language: Telugu (తెలుగు)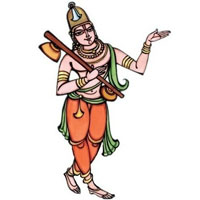 Recitals
Awaiting Contributions.
…
Awaiting Contributions.
[audio: audio-instrumental-file-name.mp3].
This Kriti was originally composed in Telugu. Other languages are for your convenience.
పల్లవి
వేఁటకాఁడనంట నా వెంటఁ బాయవు వోరి
చీటకపు చెంచెత నాచేతిలాగెరఁగవా
చరణములు
1.పొదలో నేనేసిన పులి నీవేసితినని
పెదపెద్ద యెలుగుఁల బెదరించేవు
కుదురుబుబ్బల్ నిన్నుఁ గుమ్ముదునో వుండేవో మేను
చిదియఁగా మేటిచెంచెత నన్నెఱఁగవా
2.చేరువ నామోఁటునఁ జేరిన నామెకముల
నేరుపరినంటా నీవునేసేవు
జీరలుగా కొమ్ము గోరఁ జింతునో వూరకుండేవో
పేరుకల చెంచెత నాబిరుదులెరఁగవా
3.చొల్లెపు చుట్టలతోడ చూపులకు నడ్డాలు
చెల్లునంటా వచ్చి చెట్టవట్టేవు
వొల్లననఁగా గూడేవు వుద్దండపు వేంకటేశ
జల్లివింటి చెంచెత నాచలములెరఁగవా
.
Pallavi
vE@mTakA@mDanamTa nA vemTa@m bAyavu vOri
cITakapu cemceta nAcEtilAgera@mgavA
Charanams
1.podalO nEnEsina puli nIvEsitinani
pedapedda yelugu@mla bedarimcEvu
kudurububbal ninnu@m gummudunO vumDEvO mEnu
cidiya@mgA mETicemceta nanne~ra@mgavA
2.cEruva nAmO@mTuna@m jErina nAmekamula
nEruparinamTA nIvunEsEvu
jIralugA kommu gOra@m jimtunO vUrakumDEvO
pErukala cemceta nAbirudulera@mgavA
3.collepu cuTTalatODa cUpulaku naDDAlu
cellunamTA vacci ceTTavaTTEvu
vollanana@mgA gUDEvu vuddamDapu vEmkaTESa
jallivimTi cemceta nAcalamulera@mgavA
.

We will update this page , once we find comprehensive meaning. Feel free to contribute if you know.
.