Composer: Sri Tallapaka Annamacharya (Annamayya అన్నమయ్య) , May 9, 1408 – February 23, 1503 was born to Narayana Suri and Lakkamamba in Tallapaka, a village in current day Kadapa district of Andhra Pradesh. More….
Keerthana No. 172
Copper Sheet No. 330
Pallavi: Viccana vidine (విచ్చన విడినె)
Ragam: Deva kriya
Language: Telugu (తెలుగు)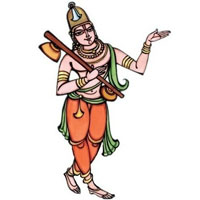 Recitals
Awaiting Contributions.
…
Awaiting Contributions.
[audio: audio-instrumental-file-name.mp3].
This Kriti was originally composed in Telugu. Other languages are for your convenience.
Pallavi
|| విచ్చన విడినె యాడే వీడె కౄష్ణుడు | వొచ్చము లేనివాడు వుద్దగిరి కౄష్ణుడు ||
Charanams
|| గల్లు గల్లు మనగాను గజ్జెలు నందెల తోడ | బిల్లగోట్లాడీని పిన్న కౄష్ణుడు |
పెల్లురేగి వీధులను గేరి పుట్ట చెండులాడీ | బల్లిదుడు గదవమ్మ బాలకౄష్ణుడు ||
|| తమితోడ గోపాలులు తాను గూడి ముంగిటను | సముద్ర బిల్ల లాడీ సాధు కౄష్ణుడు |
చెమటలుగార సిరిసింగన వత్తియాడీ | గుమితాన వీడేయమ్మా గోపాలకౄష్ణుడు ||
|| వుదుటున బారి సారి వుడ్డ గచ్చకాయలాడీ | ముదము దొలకగాను ముద్దు కౄష్ణుడు |
అదివో శ్రీ వేంకటేశుడాట లెల్లా దానెయాడీ | పదివేలు చందాల శ్రీపతియైన కౄష్ణుడు ||
.
Pallavi
|| viccana viDine yADE vIDe kRuShNuDu | voccamu lEnivADu vuddagiri kRuShNuDu ||
Charanams
|| gallu gallu managAnu gajjelu naMdela tODa | billagOTlADIni pinna kRuShNuDu |
pellurEgi vIdhulanu gEri puTTa ceMDulADI | balliduDu gadavamma bAlakRuShNuDu ||
|| tamitODa gOpAlulu tAnu gUDi muMgiTanu | samudra billa lADI sAdhu kRuShNuDu |
cemaTalugAra sirisiMgana vattiyADI | gumitAna vIDEyammA gOpAlakRuShNuDu ||
|| vuduTuna bAri sAri vuDDa gaccakAyalADI | mudamu dolakagAnu muddu kRuShNuDu |
adivO SrI vEMkaTESuDATa lellA dAneyADI | padivElu caMdAla SrIpatiyaina kRuShNuDu ||
.

We will update this page , once we find comprehensive meaning. Feel free to contribute if you know.
.