Composer: Sri Tallapaka Annamacharya (Annamayya అన్నమయ్య) , May 9, 1408 – February 23, 1503 was born to Narayana Suri and Lakkamamba in Tallapaka, a village in current day Kadapa district of Andhra Pradesh. More….
Keerthana No.470
Copper Sheet No. 381
Pallavi: Arudi Kapindruni (అరుదీ కపీంద్రుని)
Ragam: Malavi
Language: Telugu (తెలుగు)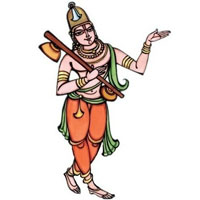 Recitals
Awaiting Contributions.
…
Awaiting Contributions.
[audio: audio-instrumental-file-name.mp3].
This Kriti was originally composed in Telugu. Other languages are for your convenience.
Pallavi
అరుదీ కపీంద్రుని అధిక ప్రతాపము
సురలకు నరులకీసుద్దులెందు కలవా
Charanams
1. కొండలంతలు వానరకోటులు కొలువగాను | దండితో కొలువున్నాడు తగరాముడు |
అండనే సీతాదేవి అమరి కూచుండగాను | మెండుగ సింహాసనాన మెరసీ రాముడు ||
2.వామదేవ కౌశిక వశిష్ఠాదుల విన్నపాలు | ఆముకొని వినుచున్నాడు అదె రాముడు |
గోమున భరత శత్రుఘ్నులు ఛత్రచామరాలు | కామించి పట్టుకుండగా కడుమించే రాముడు
3.కనక పుష్పకము చెంగట వీరాసనము తో- | ననిచి ఆనందాన నున్నాడు రాముడు |
ఘన శ్రీ వేంకటాద్రిపై కల్పవృక్షము నీడ | హనుమంతుని చదువులాలకించీ రాముడు ||
.
Pallavi
arudI kapIndruni adhika pratApamu
suralaku narulakIsudduleMdu kalavA
Charanams
1.udayAchalamu mIdinokkajaMga chAchukoni
uduTuna naparAdri nokkajaMga chAchukoni
tuda sUryamaMDAlamu tODa mOmu dippukuMTA
pedavu letti chadive peddahanumaMtuDu
2.vokkamolagaMTa chaMdru DokkamolagaMTa ravi
chukkalu molapUsalai chUpaTTagA
nikkina vAlAgramaMdu niMDina bhraHmalOkamu
pikkaTilla perigenu peddahanumaMtuDu
3.piDikiliMchina chEta birudulapaMDlagola
taDayaka kuDichEta daSadikkula
jaDiyaka SrIvEMkaTESwaruni mannanabaMTu
beDidapu mahimala peddahanumaMtuDu
.

We will update this page , once we find comprehensive meaning. Feel free to contribute if you know.
.