Composer: Sri Tallapaka Annamacharya (Annamayya అన్నమయ్య) , May 9, 1408 – February 23, 1503 was born to Narayana Suri and Lakkamamba in Tallapaka, a village in current day Kadapa district of Andhra Pradesh. More….
Keerthana No. 423
Copper Sheet No. 172
Pallavi: Avadharimchagadavayya (అవధరించగదవయ్య)
Ragam: Sankarabharanam
Language: Telugu (తెలుగు)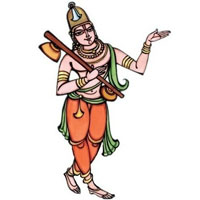 Recitals
Avadharimchagadavayya | అవధరించగదవయ్య
Voice: Unknown

Awaiting Contributions.
This Kriti was originally composed in Telugu. Other languages are for your convenience.
Pallavi
అవధరించగదవయ్య అన్ని రసములు నీవె
తివురుచునబ్బెనిదె తేనెమోవి రసము
Charanams
1.చెలియ చక్కదనాన శృంగార రసము
వెలయ బొమజంకెనల వీరరసము
కలయు రతికాంక్షలను కరుణారసము
అలరు మైపులకలను అద్భుత రసము
2.తరుణి సరసములను తగు హాస్య రసము
పరుషంపు విరహాన భయ రసము
బెరయు నిబ్బరములను భీభత్స రసము
గరిమ మరుయుద్ధాన ఘన రౌద్ర రసము
3.వనిత ఆనందముల వడిశాంతరసము
ననుపు మంతనములను నవరసములు
యెనలేని శ్రీవేంకటేశ నీతోగూడి
దినదిన వినోదాల తిరమాయ రసము
.
Pallavi
avadharimchagadavayya anni rasamulu nIve
tivuruchunabbenide tEnemOvi rasamu
charanams
1.cheliya chakkadanAna SRMgAra rasamu
velaya bomajaMkenala vIrarasamu
kalayu ratikAMkshalanu karuNArasamu
alaru maipulakalanu adbhuta rasamu
2.taruNi sarasamulanu tagu hAsya rasamu
parushaMpu virahAna bhaya rasamu
berayu nibbaramulanu bhIbhatsa rasamu
garima maruyuddhAna ghana raudra rasamu
3.vanita AnaMdamula vaDiSAMtarasamu
nanupu maMtanamulanu navarasamulu
yenalEni SrIvEMkaTESa nItOgUDi
dinadina vinOdAla tiramAya rasamu
.

We will update this page , once we find comprehensive meaning. Feel free to contribute if you know.
.