Composer: Muttukumaraswamy (முத்துகுமாரச்வாமி) popularly known as Muthuswamy Dikshithar (முத்துஸ்வாமி தீக்ஷிதர் – ముత్తుస్వామీ డిక్షితర్), (March 24, 1775 – October 21, 1835) was born in Tiruvarur (of Thanjavur district of Tamil Nadu) to a Tamil Iyer Brahmin couple Ramaswami Dikshitar and Subbamma, as the eldest son. He also had two younger brothers Baluswami, Chinnaswami and a sister Balambal.Chidambaranatha Yogi was his guru. More…
Raagam: Kalyani
Taalam: Misra Caapu
Diety: Sri Vaidyanatha / Balambika Krithis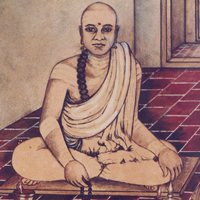 .
Recitals
Album: Unknown | Voice: Shanta Krishnaswamy
Album: Unknown | Voice: S.Srinivasa Rao
Album: Unknown | Voice: Unknown

Awaiting Contributions.

We believe this kriti was originally composed in sanskrit. Other languages are for your convenience.
పల్లవి
భజరే రే చిత్త బాలాంబికాం
భక్త కల్ప లతికామ్
అనుపల్లవి
నిజ రూప దాన దక్ష చరణాం
అరుణాం నిత్య కల్యాణీం శర్వాణీమ్
చరణమ్
శ్రీ వాగ్భవ కూట జాత చతుర్వేద స్వరూపిణీం
శృంగార కామ రాజోద్భవ సకల విశ్వ వ్యాపినీమ్
దేవీం శక్తి బీజోద్భవ మాతృకార్ణ శరీరిణీం
దేవ నుత భవ రోగ హర –
వైద్య పతి హృదయ విహారిణీమ్
(మధ్యమ కాల సాహిత్యమ్)
భావ రాగ తాళ మోదినీం
భక్తాభీష్ట ప్రదాయినీం
సేవక జన పాలన గురు గుహ –
రూప ముత్తు కుమార జననీమ్
variations
భక్త కల్ప లతికామ్ – భజరే రే చిత్త భక్త కల్ప లతికామ్
నిత్య – నిత్యాం
ముత్తు కుమార – ముద్దు కుమార
.
பல்லவி
ப4ஜரே ரே சித்த பா3லாம்பி3காம்
ப4க்த கல்ப லதிகாம்
அனுபல்லவி
நிஜ ரூப தா3ன த3க்ஷ சரணாம்
அருணாம் நித்ய கல்யாணீம் ஸ1ர்வாணீம்
சரணம்
ஸ்ரீ வாக்3ப4வ கூட ஜாத சதுர்வேத3 ஸ்வரூபிணீம்
ஸ்1ரு2ங்கா3ர காம ராஜோத்3ப4வ ஸகல விஸ்1வ வ்யாபினீம்
தே3வீம் ஸ1க்தி பீ3ஜோத்3ப4வ மாத்ரு2கார்ண ஸ1ரீரிணீம்
தே3வ நுத ப4வ ரோக3 ஹர –
வைத்3ய பதி ஹ்ரு2த3ய விஹாரிணீம்
(மத்4யம கால ஸாஹித்யம்)
பா4வ ராக3 தாள மோதி3னீம்
ப4க்தாபீ4ஷ்ட ப்ரதா3யினீம்
ஸேவக ஜன பாலன கு3ரு கு3ஹ –
ரூப முத்து குமார ஜனனீம்
variations
ப4க்த கல்ப லதிகாம் – ப4ஜரே ரே சித்த ப4க்த கல்ப லதிகாம்
நித்ய – நித்யாம்
முத்து குமார – முத்3து3 குமார
.
ಪಲ್ಲವಿ
ಭಜರೇ ರೇ ಚಿತ್ತ ಬಾಲಾಂಬಿಕಾಂ
ಭಕ್ತ ಕಲ್ಪ ಲತಿಕಾಮ್
ಅನುಪಲ್ಲವಿ
ನಿಜ ರೂಪ ದಾನ ದಕ್ಷ ಚರಣಾಂ
ಅರುಣಾಂ ನಿತ್ಯ ಕಲ್ಯಾಣೀಂ ಶರ್ವಾಣೀಮ್
ಚರಣಮ್
ಶ್ರೀ ವಾಗ್ಭವ ಕೂಟ ಜಾತ ಚತುರ್ವೇದ ಸ್ವರೂಪಿಣೀಂ
ಶೃಂಗಾರ ಕಾಮ ರಾಜೋದ್ಭವ ಸಕಲ ವಿಶ್ವ ವ್ಯಾಪಿನೀಮ್
ದೇವೀಂ ಶಕ್ತಿ ಬೀಜೋದ್ಭವ ಮಾತೃಕಾರ್ಣ ಶರೀರಿಣೀಂ
ದೇವ ನುತ ಭವ ರೋಗ ಹರ –
ವೈದ್ಯ ಪತಿ ಹೃದಯ ವಿಹಾರಿಣೀಮ್
(ಮಧ್ಯಮ ಕಾಲ ಸಾಹಿತ್ಯಮ್)
ಭಾವ ರಾಗ ತಾಳ ಮೋದಿನೀಂ
ಭಕ್ತಾಭೀಷ್ಟ ಪ್ರದಾಯಿನೀಂ
ಸೇವಕ ಜನ ಪಾಲನ ಗುರು ಗುಹ –
ರೂಪ ಮುತ್ತು ಕುಮಾರ ಜನನೀಮ್
variations
ಭಕ್ತ ಕಲ್ಪ ಲತಿಕಾಮ್ – ಭಜರೇ ರೇ ಚಿತ್ತ ಭಕ್ತ ಕಲ್ಪ ಲತಿಕಾಮ್
ನಿತ್ಯ – ನಿತ್ಯಾಂ
ಮುತ್ತು ಕುಮಾರ – ಮುದ್ದು ಕುಮಾರ
.
पल्लवि
भजरे रे चित्त बालाम्बिकां
भक्त कल्प लतिकाम्
अनुपल्लवि
निज रूप दान दक्ष चरणां
अरुणां नित्य कल्याणीं शर्वाणीम्
चरणम्
श्री वाग्भव कूट जात चतुर्वेद स्वरूपिणीं
शृङ्गार काम राजोद्भव सकल विश्व व्यापिनीम्
देवीं शक्ति बीजोद्भव मातृकार्ण शरीरिणीं
देव नुत भव रोग हर –
वैद्य पति हृदय विहारिणीम्
(मध्यम काल साहित्यम्)
भाव राग ताळ मोदिनीं
भक्ताभीष्ट प्रदायिनीं
सेवक जन पालन गुरु गुह –
रूप मुत्तु कुमार जननीम्
variations
भक्त कल्प लतिकाम् – भजरे रे चित्त भक्त कल्प लतिकाम्
नित्य – नित्यां
मुत्तु कुमार – मुद्दु कुमार
.
pallavi
bhajarE rE citta bAlAmbikAM
bhakta kalpa latikAm
anupallavi
nija rUpa dAna daksha caraNAM
aruNAM nitya kalyANIM SarvANIm
caraNam
SrI vAgbhava kUTa jAta caturvEda svarUpiNIM
SRngAra kAma rAjOdbhava sakala viSva vyApinIm
dEvIM Sakti bIjOdbhava mAtRkArNa SarIriNIM
dEva nuta bhava rOga hara –
vaidya pati hRdaya vihAriNIm
(madhyama kAla sAhityam)
bhAva rAga tALa mOdinIM
bhaktAbhIshTa pradAyinIM
sEvaka jana pAlana guru guha –
rUpa muttu kumAra jananIm
variations
bhakta kalpa latikAm – bhajarE rE citta bhakta kalpa latikAm
nitya – nityAM
muttu kumAra – muddu kumAra
.
പല്ലവി
ഭജരേ രേ ചിത്ത ബാലാമ്ബികാം
ഭക്ത കല്പ ലതികാമ്
അനുപല്ലവി
നിജ രൂപ ദാന ദക്ഷ ചരണാം
അരുണാം നിത്യ കല്യാണീം ശര്വാണീമ്
ചരണമ്
ശ്രീ വാഗ്ഭവ കൂട ജാത ചതുര്വേദ സ്വരൂപിണീം
ശൃങ്ഗാര കാമ രാജോദ്ഭവ സകല വിശ്വ വ്യാപിനീമ്
ദേവീം ശക്തി ബീജോദ്ഭവ മാതൃകാര്ണ ശരീരിണീം
ദേവ നുത ഭവ രോഗ ഹര –
വൈദ്യ പതി ഹൃദയ വിഹാരിണീമ്
(മധ്യമ കാല സാഹിത്യമ്)
ഭാവ രാഗ താള മോദിനീം
ഭക്താഭീഷ്ട പ്രദായിനീം
സേവക ജന പാലന ഗുരു ഗുഹ –
രൂപ മുത്തു കുമാര ജനനീമ്
variations
ഭക്ത കല്പ ലതികാമ് – ഭജരേ രേ ചിത്ത ഭക്ത കല്പ ലതികാമ്
നിത്യ – നിത്യാം
മുത്തു കുമാര – മുദ്ദു കുമാര
.
Pallavi
O mind! Worship Balambika.The celestial wish-yielding tree to her devotees. She is embodied in the syllable Ka!
Anupallavi
The feet that instantly grants self-realisation to her devotees. The reddish hued.The eternal.Auspicious.The consort of Sharva ie Shiva
Charanam
The very form of the four Vedas that arose from the Vagbhavkuta. She pervades the Universe as the Maya of the kamaraja kUTa. The devi who is the embodiment of the letters that arose from the shakti kuta.The one who dwells in the heart of Lord Vaidyanatha worshipped by the Gods and cures worldly afflictions! The one that delights in Bhava, Raga and Tala.The one who grants all that her devotees ask for.The mother of Subrahmanya, or Muthukumara, the protector of devotees.
This song is steeped in mantra shastra.The vagbhava kuta, kamaraja kuta and shakti kuta are all parts of the panchadashakshari.
.