Composer: Sri Tallapaka Annamacharya (Annamayya అన్నమయ్య) , May 9, 1408 – February 23, 1503 was born to Narayana Suri and Lakkamamba in Tallapaka, a village in current day Kadapa district of Andhra Pradesh. More….
Keerthana No. 158
Copper Sheet No. 28
Pallavi: Cinnanadu Muddulu (చిన్ననాఁడు ముద్దులు)
Ragam: Mukhari
Language: Telugu (తెలుగు)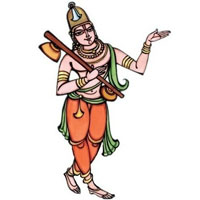 Recitals
Awaiting Contributions.
…
Awaiting Contributions.
[audio: audio-instrumental-file-name.mp3].
This Kriti was originally composed in Telugu. Other languages are for your convenience.
పల్లవి
చిన్ననాఁడు ముద్దులు వంచినవాఁడు తా-
నున్నవాఁడె యిపుడు నాయెడయఁడై నేఁడు
చరణములు
1.గోవులఁ గాచినవాఁడు గొల్లెతల మేనిగబ్బుఁ-
దావుల పెనుభ్రమలఁ దగులువాఁడు
కోవిదుఁడెట్లనాయఁ గోమలులఁ బదియారు-
వేవురను వలపించే వెరవరెట్టాయెనే
2.వెన్నలారగించువాఁడు విడువక వెకలియై
కన్నచోనే తిరిగేటి గద్దరీఁడు
వన్నెదాఁ డెట్లానాయ వడి గోపవనితల-
నెన్నరాని చేఁతలెల్ల నెట్టు సేసినాఁడే
3.కొండలెక్కి దాఁటువాఁడు కొండమోచునట్టివాఁడు
కొండలే నెలవుగాఁ గైలిన్నవాఁడు
కొండుక పాయపువాఁడు గుబురైన తిరుమల-
కొండమీఁద నెలకొన్న కోనేటివాఁడు.
.
Pallavi
cinnanA@mDu muddulu vamcinavA@mDu tA-
nunnavA@mDe yipuDu nAyeDaya@mDai nE@mDu
Charanams
1.gOvula@m gAcinavA@mDu golletala mEnigabbu@m-
dAvula penubhramala@m daguluvA@mDu
kOvidu@mDeTlanAya@m gOmalula@m badiyAru-
vEvuranu valapimcE veravareTTAyenE
2.vennalAragimcuvA@mDu viDuvaka vekaliyai
kannacOnE tirigETi gaddarI@mDu
vannedA@m DeTlAnAya vaDi gOpavanitala-
nennarAni cE@mtalella neTTu sEsinA@mDE
3.komDalekki dA@mTuvA@mDu komDamOcunaTTivA@mDu
komDalE nelavugA@m gailinnavA@mDu
komDuka pAyapuvA@mDu guburaina tirumala-
komDamI@mda nelakonna kOnETivA@mDu.
.

We will update this page , once we find comprehensive meaning. Feel free to contribute if you know.
.