Composer: Sri Tallapaka Annamacharya (Annamayya అన్నమయ్య) , May 9, 1408 – February 23, 1503 was born to Narayana Suri and Lakkamamba in Tallapaka, a village in current day Kadapa district of Andhra Pradesh. More….
Keerthana No. 249
Copper Sheet No. 244
Pallavi: Daivama Ni Chetide (దైవమా నీ చేతిదే)
Ragam: Varali
Language: Telugu (తెలుగు)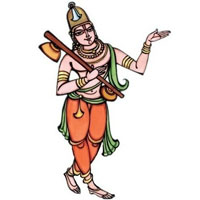 Recitals
Awaiting Contributions.
…
Awaiting Contributions.
[audio: audio-instrumental-file-name.mp3].
This Kriti was originally composed in Telugu. Other languages are for your convenience.
Pallavi
|| దైవమా నీ చేతిదే మాధర్మపుణ్యము | పూవు వంటి కడు లేత బుద్ధి వారము ||
Charanams
|| యేమిటి వారము నేము యిదివో మా కర్మ మెంత | భూమి నీవు పుట్టించగ బుట్టితిమి |
నేమముతో నడచేటి నేరుపేది మావల్ల | దీముతో మోచిన తోలు దేహులము ||
|| యెక్కడ మాకిక గతి యెరిగే దెన్నడు నేము | చిక్కినట్టి నీ చేతిలో జీవులము |
తక్కక నీ మాయలెల్లా దాటగలమా మేము | మొక్కలపుటజ్ౙానపు ముగ్ధలము ||
|| యేది తుద మొదలు మాకిక నిందులో నీవే | ఆదిమూర్తి నీకు శరణాగతులము |
యీదెస శ్రీవేంకటేశ యేలితివి నన్ను నిట్టె | నీదయ గలుగగాను నీ వారము ||
.
Pallavi
|| daivamA nI cEtidE mAdharmapuNyamu | pUvu vaMTi kaDu lEta buddhi vAramu ||
Charanams
|| yEmiTi vAramu nEmu yidivO mA karma meMta | BUmi nIvu puTTiMcaga buTTitimi |
nEmamutO naDacETi nErupEdi mAvalla | dImutO mOcina tOlu dEhulamu ||
|| yekkaDa mAkika gati yerigE dennaDu nEmu | cikkinaTTi nI cEtilO jIvulamu |
takkaka nI mAyalellA dATagalamA mEmu | mokkalapuTaj~jAnapu mugdhalamu ||
|| yEdi tuda modalu mAkika niMdulO nIvE | AdimUrti nIku SaraNAgatulamu |
yIdesa SrIvEMkaTESa yElitivi nannu niTTe | nIdaya galugagAnu nI vAramu ||
.

We will update this page , once we find comprehensive meaning. Feel free to contribute if you know.
.