Ustad Ghulam Ali (Urdu: غلام علی, Hindi: ग़ुलाम अली (born 1940) is a Pakistani ghazal singer of the Patiala gharana. He is not to be confused with the Indian singer Bade Ghulam Ali Khan (of whom he was a disciple) or Chhote Ghulam Ali, who is another Pakistani singer in the Qual Bachon Gharana More..
Category: Ghazals


Writer / Author: Ustad Ghulam Ali (غلام علی)


Language: Urdu (اردو)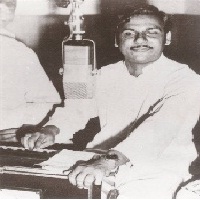 Recitals
Ek Pagali Mera Naam | ایک پگلی میرا نام
Album:Private | Voice: U.Ghulam Ali

Awaiting Contributions.
This Ghazal was originally composed in Urdu. Other languages are for your convenience.
ایک پگلی میرا نام جو لے شرامایے بھی غبارے بھی
گلیوں گلیوں مجھسے ملانے اے بھی غبارے بھی
رات گئے گھر جانے والی گمسم لداکی راہوں میں
اپنی الجھی زلفوں کو سلجھاے بھی غبارے بھی
کون بچھاد کر پھر لوٹیگا کیوں آوارہ پھرتے ہو
راتوں کو ایک چاند مجھے سمجھاہے بھی غبارے بھی
آنے والی رت کا کتنا کوف ہے اسکی آنکھوں میں
جانے والا دور سے ہاتھ حلیے بھی غبارے بھی
.
Awaiting Contribution..
.
ek pagali mera naam jo le sharamaaye bhi ghabaraaye bhi
galiyon galiyon mujhase milane aaye bhi ghabaraaye bhi
raat gaye ghar jaane waali gumasum ladaki raahon mein
apani ulajhi zulfon ko sulajhaaye bhi ghabaraaye bhi
kaun bichhad kar phir lautega kyon aawaara phirate ho
raaton ko ek chaand mujhe samajhaaye bhi ghabaraaye bhi
aane waali rut ka kitana kauf hai usaki aankhon mein
jaane waala door se haath hilaaye bhi ghabaraaye bhi
.