Composer: Sri Tallapaka Annamacharya (Annamayya అన్నమయ్య) , May 9, 1408 – February 23, 1503 was born to Narayana Suri and Lakkamamba in Tallapaka, a village in current day Kadapa district of Andhra Pradesh. More….
Keerthana No.460
Copper Sheet No. 487
Pallavi:Emaya Nimdukuu (ఏమాయ నిందుకు)
Ragam: Sudda Vasantham
Language: Telugu (తెలుగు)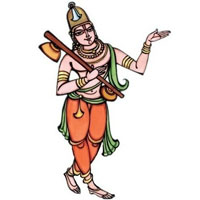 Recitals
Awaiting Contributions.
…
Awaiting Contributions.
[audio: audio-instrumental-file-name.mp3].
This Kriti was originally composed in Telugu. Other languages are for your convenience.
Pallavi
|| ఏమాయ నిందుకు నీ వెగ్గులేల పట్టేవు | కామిని నీచెక్కు నొక్కి కైకొనవయ్య ||
Charanams
|| పడతి నోరెత్తితేను పగడాలే రాసులయ్యీ | యెడపు నిన్ను దిట్టితే నేమాయనయ్యా |
కడలేని రత్నాలు గానుక వచ్చిన నీవు | తడవి బండారాన దాచుకోవటయ్యా ||
|| మగువ చూపులవంక మాణిక్యాలే రాలీని | తగ గోపించి చూచితే తప్పటవయ్యా |
సొగిసి మణులు దాచి సొమ్ములు నీకిచ్చితేను | జిగి మేన ధరియించి చెలగవటయ్యా ||
|| ముంచి చెలి నవ్వితేను ముత్తేలే రాలీని | యించుక గేలిసేసితే నేమాయనయ్యా |
పెంచెపు శ్రీ వేంకటేశ పెండ్లి ముత్యాల సేస | వంచి కూడి చెలి మాన వచ్చునటయ్య ||
.
Pallavi
|| EmAya niMduku nI veggulEla paTTEvu | kAmini nIcekku nokki kaikonavayya ||
Charanams
|| paDati nOrettitEnu pagaDAlE rAsulayyI | yeDapu ninnu diTTitE nEmAyanayyA |
kaDalEni ratnAlu gAnuka vaccina nIvu | taDavi baMDArAna dAcukOvaTayyA ||
|| maguva cUpulavaMka mANikyAlE rAlIni | taga gOpiMci cUcitE tappaTavayyA |
sogisi maNulu dAci sommulu nIkiccitEnu | jigi mEna dhariyiMci celagavaTayyA ||
|| muMci celi navvitEnu muttElE rAlIni | yiMcuka gElisEsitE nEmAyanayyA |
peMcepu SrI vEMkaTESa peMDli mutyAla sEsa | vaMci kUDi celi mAna vaccunaTayya ||
.

We will update this page , once we find comprehensive meaning. Feel free to contribute if you know.
.