Composer: Sri Tallapaka Annamacharya (Annamayya అన్నమయ్య) , May 9, 1408 – February 23, 1503 was born to Narayana Suri and Lakkamamba in Tallapaka, a village in current day Kadapa district of Andhra Pradesh. More….
Keerthana No. 267
Copper Sheet No. 746
Pallavi: Emi Seyavachchu (ఏమి సేయవచ్చు)
Ragam: Salanga
Language: Telugu (తెలుగు)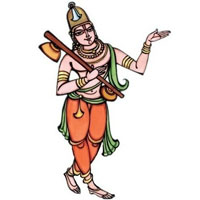 Recitals
Awaiting Contributions.
…
Awaiting Contributions.
[audio: audio-instrumental-file-name.mp3].
This Kriti was originally composed in Telugu. Other languages are for your convenience.
Pallavi
ఏమి సేయవచ్చు గర్మమిచ్చినంతేకాని లేదు
తాము సేసినంత వట్టు తమకు బోరాదు ||
Charanams
1.ఇట్టునట్టు మిట్టిపడ్డ యించుకంతా లేదు,వీపు
బట్టగట్ట మోపు మోచి పాటువడ్డా లేదు
తట్టువడ లోకమెల్ల దవ్వుకొనినా లేదు
తెట్టదెరువున నోరుదెరచినా లేదు ||
2.అడిగి పరులబదు కాసపడ్డా లేదు, భీతి
విడిచి నెత్తుటదోగి వీరుడైనా లేదు
అడవులెల్లాదిరిగి అలమటించిన లేదు
యిడుమపాటుకు జొచ్చి యియ్యకొన్నా లేదు ||
3.వచ్చివచ్చి వనితల వలపించుకొన్నా లేదు
మెచ్చులగుఋఋఅము నెక్కి మెరసినా లేదు
యెచ్చరిక దిరువేంకటేశు గొలువక వుంటే
యిచ్చటనచ్చట సుఖ మించుకంతా లేదు ||
.
Pallavi
Emi sEyavachchu garmamichchinaMtEkAni lEdu
tAmu sEsinaMta vaTTu tamaku bOrAdu ||
Charanams
1.iTTunaTTu miTTipaDDa yiMchukaMtA lEdu,vIpu
baTTagaTTa mOpu mOchi pATuvaDDA lEdu
taTTuvaDa lOkamella davvukoninA lEdu
teTTaderuvuna nOruderachinA lEdu ||
2.aDigi parulabadu kAsapaDDA lEdu, bhIti
viDichi nettuTadOgi vIruDainA lEdu
aDavulellAdirigi alamaTiMchina lEdu
yiDumapATuku jochchi yiyyakonnA lEdu ||
3.vachchivachchi vanitala valapiMchukonnA lEdu
mechchulaguRRamu nekki merasinA lEdu
yechcharika diruvEMkaTESu goluvaka vuMTE
yichchaTanachchaTa sukha miMchukaMtA lEdu ||
.

We will update this page , once we find comprehensive meaning. Feel free to contribute if you know.
.