Composer: Sri Tallapaka Annamacharya (Annamayya అన్నమయ్య) , May 9, 1408 – February 23, 1503 was born to Narayana Suri and Lakkamamba in Tallapaka, a village in current day Kadapa district of Andhra Pradesh. More….
Keerthana No.530
Copper Sheet No.599
Pallavi: Erxuganaiti (ఎర్కుగనైతి )
Ragam:chaya nata
Language: Telugu (తెలుగు)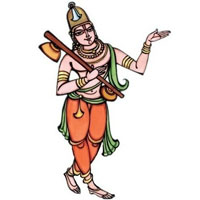 Recitals
Awaiting Contributions.
…
Awaiting Contributions.
[audio: audio-instrumental-file-name.mp3].
This Kriti was originally composed in Telugu. Other languages are for your convenience.
Pallavi
|| ఎర్కుగనైతి నిందాకా నేటిదో యంటానుంటి | నెర్కి దొరలనాడీని నేనే మందు నికను ||
Charanams
|| కొండలలో నెలకొన్న కోన చెన్నరాయడిదే | బొండు మల్లెల వేసెనేపూచి నన్నును |
పండుముత్తేల సొమ్ములప్పటి నామెడ బెట్టి | దుండగము సేసె నేమందు నేనికను ||
|| గొప్పయైన యేటిదరి గోన చెన్నరాయడిదే | దప్పికి గప్పురదుంపె దరుణి చేత |
చెప్పరాని మాటలెల్ల జెవిలో దానే చెప్పి | దుప్పటి గప్పీ నేమందు నికను ||
|| గుర్కితో శ్రీ వేంకటాద్రి కోన చెన్నరాయడిదే | చెరుగు పట్టి ప్రియురాలు చెప్పికూడెను |
జర్కయుచు వచ్చి వచ్చి చనవు లెల్లా నొసగి | మెర్కసి తొరల నాడి మర్కే మందు నికను ||
.
Pallavi
|| erxuganaiti niMdAkA nETidO yaMTAnuMTi | nerxi doralanADIni nEnE maMdu nikanu ||
Charanams
|| koMDalalO nelakonna kOna cennarAyaDidE | boMDu mallela vEsenEpUci nannunu |
paMDumuttEla sommulappaTi nAmeDa beTTi | duMDagamu sEse nEmaMdu nEnikanu ||
|| goppayaina yETidari gOna cennarAyaDidE | dappiki gappuraduMpe daruNi cEta |
cepparAni mATalella jevilO dAnE ceppi | duppaTi gappI nEmaMdu nikanu ||
|| gurxitO SrI vEMkaTAdri kOna cennarAyaDidE | cerugu paTTi priyurAlu ceppikUDenu |
jarxayucu vacci vacci canavu lellA nosagi | merxasi torala nADi marxE maMdu nikanu ||
.

We will update this page , once we find comprehensive meaning. Feel free to contribute if you know.
.