Composer: Sri Tallapaka Annamacharya (Annamayya అన్నమయ్య) , May 9, 1408 – February 23, 1503 was born to Narayana Suri and Lakkamamba in Tallapaka, a village in current day Kadapa district of Andhra Pradesh. More….
Keerthana No. 420
Copper Sheet No. 771
Pallavi: Ettu niddirincheno (ఎట్టు నిద్దిరించెనో)
Ragam: kambhodhi
Language: Telugu (తెలుగు)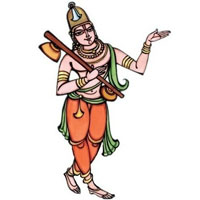 Recitals
Awaiting Contributions.
…
Awaiting Contributions.
[audio: audio-instrumental-file-name.mp3].
This Kriti was originally composed in Telugu. Other languages are for your convenience.
Pallavi
ఎట్టు నిద్దిరించెనో యీ రేతిరెల్లాను
పట్టి చుట్టుక పయ్యద పడ దీసీ క్రిశ్ణుడూ ||
Charanams
1.కడు వే కువనే లేచి కన్నులు పులుము కొంటా
కడు పక్కలించి నూక లయ్యానని
కుడుకోకచే బట్టి నా కొంగొకచేత బట్టి
అడిగీ నన్నము క్రుశ్ణుడప్పుడే చూడరే ||
2.పెరుగు దరువనన్ను దిరిగి రా జుట్టి చుట్టి
కురుచ మాటల ముద్దు గునియుచును
తిరిగి కవ్వపు గొల దిక్క గా గిలించి పట్టి
తరి వెన్న వెట్టుమనీ తగునే యీ క్రిశ్ణుడు ||
3.తనకు బెట్టినది యా తలి పడుచుల కిచ్చి
కినిసి ముచ్చిలి యార గించీ దాను
అనయము శ్రీవేంకటాద్రి క్రిశ్ణుడు నేడు
తనిసి తన యెంగిలి తగ నాకు నిచ్చెనే ||
.
Pallavi
eTTu niddiriMchenO yI rEtirellAnu
paTTi chuTTuka payyada paDa dIsI krishNuDU ||
Charanams
1.kaDu vE kuvanE lEchi kannulu pulumu koMTA
kaDu pakkaliMchi nUka layyAnani
kuDukOkachE baTTi nA koMgokachEta baTTi
aDigI nannamu krushNuDappuDE chUDarE ||
2.perugu daruvanannu dirigi rA juTTi chuTTi
kurucha mATala muddu guniyuchunu
tirigi kavvapu gola dikka gA giliMchi paTTi
tari venna veTTumanI tagunE yI krishNuDu ||
3.tanaku beTTinadi yA tali paDuchula kichchi
kinisi muchchili yAra giMchI dAnu
anayamu SrIvEMkaTAdri krishNuDu nEDu
tanisi tana yeMgili taga nAku nichchenE ||
.

We will update this page , once we find comprehensive meaning. Feel free to contribute if you know.
.