Composer: Sri Tallapaka Annamacharya (Annamayya అన్నమయ్య) , May 9, 1408 – February 23, 1503 was born to Narayana Suri and Lakkamamba in Tallapaka, a village in current day Kadapa district of Andhra Pradesh. More….
Keerthana No. 94
Copper Sheet No. 16
Pallavi: Gollu Meetuchumde (గోళ్ళు మీఁటుచునుండె)
Ragam: Bhairavi
Language: Telugu (తెలుగు)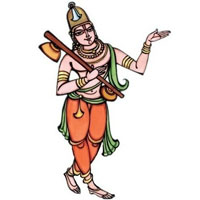 Recitals
Awaiting Contributions.
…
Awaiting Contributions.
[audio: audio-instrumental-file-name.mp3].
This Kriti was originally composed in Telugu. Other languages are for your convenience.
ఫల్లవి
గోళ్ళు మీఁటుచునుండెఁ గొన్నాళ్ళు గొల్ల-
వీళ్ళ పాలారగించె వీఁడు కొన్నాళ్ళు
చరణములు
1.కోడెకాఁడై తిరిగెఁ గొన్నాళ్ళు తాఁ
గోడెల నావులఁ గాచెఁ గొన్నాళ్ళు
కోడెల వల్లెతాడై గొల్లెతలా తాఁ
గూడి పైకొన నుండెఁ గోరి కొన్నాళ్ళు
2.గుజ్జు రూపము ధరించెఁ గొన్నాళ్ళు
గుజ్జనగూళ్ళారగించెఁ గొన్నళ్ళు
గుజ్జుబాలకిఁ దగిలెఁ గొన్నాళ్ళు తా
బొజ్జనె లోకము నించె పొందుగఁ గొన్నాళ్ళు
3.కొండ గొడుగుగాఁ బట్టెఁ గొన్నాళ్ళు తాఁ
గొండముచ్చుల నేలెఁ గొన్నాళ్ళు
కొండల కోనేటివాఁడై కోరికలా తాఁ
గొండుక చేఁతలు దొరకొనియెఁ గొన్నాళ్ళు
.
Pallavi
gOLLu mI@mTucunumDe@m gonnALLu golla-
vILLa pAlAragimce vI@mDu konnALLu
Charanams
1.kODekA@mDai tirige@m gonnALLu tA@m
gODela nAvula@m gAce@m gonnALLu
kODela valletADai golletalA tA@m
gUDi paikona numDe@m gOri konnALLu
2.gujju rUpamu dharimce@m gonnALLu
gujjanagULLAragimce@m gonnaLLu
gujjubAlaki@m dagile@m gonnALLu tA
bojjane lOkamu nimce pomduga@m gonnALLu
3.komDa goDugugA@m baTTe@m gonnALLu tA@m
gomDamuccula nEle@m gonnALLu
konDala kOnETivA@mDai kOrikalA tA@m
gomDuka cE@mtalu dorakoniye@m gonnALLu
.

We will update this page , once we find comprehensive meaning. Feel free to contribute if you know.
.