Composer: Muttukumaraswamy (முத்துகுமாரச்வாமி) popularly known as Muthuswamy Dikshithar (முத்துஸ்வாமி தீக்ஷிதர் – ముత్తుస్వామీ డిక్షితర్), (March 24, 1775 – October 21, 1835) was born in Tiruvarur (of Thanjavur district of Tamil Nadu) to a Tamil Iyer Brahmin couple Ramaswami Dikshitar and Subbamma, as the eldest son. He also had two younger brothers Baluswami, Chinnaswami and a sister Balambal.Chidambaranatha Yogi was his guru. More…

Raagam: Navaroj
Taalam: Misra capu
Diety: Maha Ganapati krithis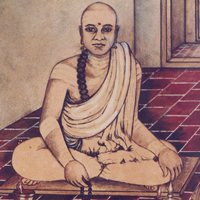 .
Recitals
Album: Unknown | Voice: T.Brinda , T.Mukta

Awaiting Contributions.

We believe this kriti was originally composed in sanskrit. Other languages are for your convenience.
పల్లవి
హస్తి వదనాయ నమస్తుభ్యం
హాటక-మయ మంటపే సింహాసన స్థితాయ
అనుపల్లవి
హస్తి కృత్తి వసన ధరార్చిత –
మహా గణపాయ తత్వ స్వరూపాయ
(మధ్యమ కాల సాహిత్యం)
సమస్త భక్తానుగ్రహాయ
మాయాలింగిత విగ్రహాయ
చరణము
కమలోత్పల పాశ శంఖ చక్రేక్షు –
కార్ముక వ్రీహ్యాగ్ర గదా నిజ విషాణ –
మాతులంగ రత్న కలశ ధరణ కరాంబుజాయ
పద పంకజాయ విమలాయ
విశ్వోత్పత్తి స్థితి విలయాయ కరుణాలయాయ
(మధ్యమ కాల సాహిత్యం)
హిమాద్రి తనయానన పంకజ –
హిరణ్య గర్భాయ సుమనసే
ఉమా రమణ కుమార గురు గుహ –
సమాన వరౌజసే మహసే
variations
నమస్తుభ్యం – నమోస్తుభ్యం
మంటపే – మండపే
తత్వ స్వరూపాయ – తత్స్వరూపాయ
.
பல்லவி
ஹஸ்தி வத3னாய நமஸ்துப்4யம்
ஹாடக-மய மண்டபே ஸிம்ஹாஸன ஸ்தி2தாய
அனுபல்லவி
ஹஸ்தி க்ரு2த்தி வஸன த4ரார்சித –
மஹா க3ணபாய தத்வ ஸ்வரூபாய
(மத்4யம கால ஸாஹித்யம்)
ஸமஸ்த ப4க்தானுக்3ரஹாய
மாயாலிங்கி3த விக்3ரஹாய
சரணம்
கமலோத்பல பாஸ1 ஸ1ங்க2 சக்ரேக்ஷு –
கார்முக வ்ரீஹ்யாக்3ர க3தா3 நிஜ விஷாண –
மாதுலங்க3 ரத்ன கலஸ1 த4ரண கராம்பு3ஜாய
பத3 பங்கஜாய விமலாய
விஸ்1வோத்பத்தி ஸ்தி2தி விலயாய கருணாலயாய
(மத்4யம கால ஸாஹித்யம்)
ஹிமாத்3ரி தனயானன பங்கஜ –
ஹிரண்ய க3ர்பா4ய ஸுமனஸே
உமா ரமண குமார கு3ரு கு3ஹ –
ஸமான வரௌஜஸே மஹஸே
variations
நமஸ்துப்4யம் – நமோஸ்துப்4யம்
மண்டபே – மண்ட3பே
தத்வ ஸ்வரூபாய – தத்ஸ்வரூபாய
.
ಪಲ್ಲವಿ
ಹಸ್ತಿ ವದನಾಯ ನಮಸ್ತುಭ್ಯಂ
ಹಾಟಕ-ಮಯ ಮಂಟಪೇ ಸಿಂಹಾಸನ ಸ್ಥಿತಾಯ
ಅನುಪಲ್ಲವಿ
ಹಸ್ತಿ ಕೃತ್ತಿ ವಸನ ಧರಾರ್ಚಿತ –
ಮಹಾ ಗಣಪಾಯ ತತ್ವ ಸ್ವರೂಪಾಯ
(ಮಧ್ಯಮ ಕಾಲ ಸಾಹಿತ್ಯಂ)
ಸಮಸ್ತ ಭಕ್ತಾನುಗ್ರಹಾಯ
ಮಾಯಾಲಿಂಗಿತ ವಿಗ್ರಹಾಯ
ಚರಣಂ
ಕಮಲೋತ್ಪಲ ಪಾಶ ಶಂಖ ಚಕ್ರೇಕ್ಷು –
ಕಾರ್ಮುಕ ವ್ರೀಹ್ಯಾಗ್ರ ಗದಾ ನಿಜ ವಿಷಾಣ –
ಮಾತುಲಂಗ ರತ್ನ ಕಲಶ ಧರಣ ಕರಾಂಬುಜಾಯ
ಪದ ಪಂಕಜಾಯ ವಿಮಲಾಯ
ವಿಶ್ವೋತ್ಪತ್ತಿ ಸ್ಥಿತಿ ವಿಲಯಾಯ ಕರುಣಾಲಯಾಯ
(ಮಧ್ಯಮ ಕಾಲ ಸಾಹಿತ್ಯಂ)
ಹಿಮಾದ್ರಿ ತನಯಾನನ ಪಂಕಜ –
ಹಿರಣ್ಯ ಗರ್ಭಾಯ ಸುಮನಸೇ
ಉಮಾ ರಮಣ ಕುಮಾರ ಗುರು ಗುಹ –
ಸಮಾನ ವರೌಜಸೇ ಮಹಸೇ
variations
ನಮಸ್ತುಭ್ಯಂ – ನಮೋಸ್ತುಭ್ಯಂ
ಮಂಟಪೇ – ಮಂಡಪೇ
ತತ್ವ ಸ್ವರೂಪಾಯ – ತತ್ಸ್ವರೂಪಾಯ
.
पल्लवि
हस्ति वदनाय नमस्तुभ्यं
हाटक-मय मण्टपे सिंहासन स्थिताय
अनुपल्लवि
हस्ति कृत्ति वसन धरार्चित –
महा गणपाय तत्व स्वरूपाय
(मध्यम काल साहित्यम्)
समस्त भक्तानुग्रहाय
मायालिङ्गित विग्रहाय
चरणम्
कमलोत्पल पाश शङ्ख चक्रेक्षु –
कार्मुक व्रीह्याग्र गदा निज विषाण –
मातुलङ्ग रत्न कलश धरण कराम्बुजाय
पद पङ्कजाय विमलाय
विश्वोत्पत्ति स्थिति विलयाय करुणालयाय
(मध्यम काल साहित्यम्)
हिमाद्रि तनयानन पङ्कज –
हिरण्य गर्भाय सुमनसे
उमा रमण कुमार गुरु गुह –
समान वरौजसे महसे
variations
नमस्तुभ्यं – नमोस्तुभ्यं
मण्टपे – मण्डपे
तत्व स्वरूपाय – तत्स्वरूपाय
.
pallavi
hasti vadanAya namastubhyaM
hATaka-maya maNTapE siMhAsana sthitAya
anupallavi
hasti kRtti vasana dharArcita –
mahA gaNapAya tatva svarUpAya
(madhyama kAla sAhityam)
samasta bhaktAnugrahAya
mAyAlingita vigrahAya
caraNam
kamalOtpala pASa Sankha cakrEkshu –
kArmuka vrIhyAgra gadA nija vishANa –
mAtulanga ratna kalaSa dharaNa karAmbujAya
pada pankajAya vimalAya
viSvOtpatti sthiti vilayAya karuNAlayAya
(madhyama kAla sAhityam)
himAdri tanayAnana pankaja –
hiraNya garbhAya sumanasE
umA ramaNa kumAra guru guha –
samAna varaujasE mahasE
variations
namastubhyaM – namOstubhyaM
maNTapE – maNDapE
tatva svarUpAya – tatsvarUpAya
.
പല്ലവി
ഹസ്തി വദനായ നമസ്തുഭ്യം
ഹാടക-മയ മണ്ടപേ സിംഹാസന സ്ഥിതായ
അനുപല്ലവി
ഹസ്തി കൃത്തി വസന ധരാര്ചിത –
മഹാ ഗണപായ തത്വ സ്വരൂപായ
(മധ്യമ കാല സാഹിത്യമ്)
സമസ്ത ഭക്താനുഗ്രഹായ
മായാലിങ്ഗിത വിഗ്രഹായ
ചരണമ്
കമലോത്പല പാശ ശങ്ഖ ചക്രേക്ഷു –
കാര്മുക വ്രീഹ്യാഗ്ര ഗദാ നിജ വിഷാണ –
മാതുലങ്ഗ രത്ന കലശ ധരണ കരാമ്ബുജായ
പദ പങ്കജായ വിമലായ
വിശ്വോത്പത്തി സ്ഥിതി വിലയായ കരുണാലയായ
(മധ്യമ കാല സാഹിത്യമ്)
ഹിമാദ്രി തനയാനന പങ്കജ –
ഹിരണ്യ ഗര്ഭായ സുമനസേ
ഉമാ രമണ കുമാര ഗുരു ഗുഹ –
സമാന വരൌജസേ മഹസേ
variations
നമസ്തുഭ്യം – നമോസ്തുഭ്യം
മണ്ടപേ – മണ്ഡപേ
തത്വ സ്വരൂപായ – തത്സ്വരൂപായ
.
Pallavi
I pray to you,the elephant-faced one, the one seated in a golden mantapa on a golden throne.
Anupallavi
(I pray to you) the one who was prayed to by Shiva who wears an elephant's skin, the Lord of the ganas,the form of the ultimate reality,the one who graces all his devotees,the one who is embraced by MayaDevi.
Charanam
(I pray to you ) The one who holds a lotus,the utpala flowers,noose,conch,discus,a bow of sugarcane,rice-cob,a mace,a broken tusk, a pomegranate and a small pitcher made of precious stones in his lotus-like hands;the one with lotus-feet,the one who is pure,the one who creates,sustains and destroys,the temple of mercy,the one who is like the sun that makes the lotus-flower that is the face of Parvati,the daughterof the mountain king bloom1 , the kind-hearted,the one who is comparable to the young guruguha the son of Shiva in prowess,the great one
1.A similar reference is found in the popular shloka agajAnana padmArkam
2.The sucita raga mudra is found in the lines samanAvaraujase
.