Composer: Sri Tallapaka Annamacharya (Annamayya అన్నమయ్య) , May 9, 1408 – February 23, 1503 was born to Narayana Suri and Lakkamamba in Tallapaka, a village in current day Kadapa district of Andhra Pradesh. More….
Keerthana No. 573
Copper Sheet No. 375
Pallavi: Imtesi sevalu seya (ఇంతేసి సేవలు సేయ)
Ragam: kumtala varali
Language: Telugu (తెలుగు)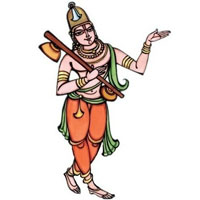 Recitals
Awaiting Contributions.
…
Awaiting Contributions.
[audio: audio-instrumental-file-name.mp3].
This Kriti was originally composed in Telugu. Other languages are for your convenience.
Pallavi
|| ఇంతేసి సేవలు సేయ నెందాకా నోపు చెలి |
కాంతుడవు మెచ్చి మెచ్చి కౌగలించవయ్యా ||
Charanams
|| పయ్యదకొంగు జారగ పాలిండ్లు గదలగ |
చయ్యన గుంచె వేసీని సతి నీకు |
చెయ్యెల్ల బడలంగ జెక్కులు చెమరించగ |
వొయ్యనే పాదా లొత్తీ నుల్లసాన నీకు ||
|| గరిమ దురుము వీడ గస్తూరి బేంట్లు రాల |
పరగగ గాళాంజి పట్టీ నీకు |
సరులు చిక్కువడగ సందడి నూర్పులు రేగ |
సిరుల గందము పూసీ జెలరేగి నీకు ||
|| తనువు పులకించగ తమకములు ముంచగ |
యెనచి యాకు మడచి యిచ్చీ నీకు |
అనుగు శ్రీవేంకటేశ అలమేలుమంగ యీకె |
చనవున గెమ్మోవి చవిచూసీ నీకు ||
.
Pallavi
|| iMtEsi sEvalu sEya neMdAkA nOpu celi |
kAMtuDavu mecci mecci kaugaliMcavayyA ||
Charanams
|| payyadakoMgu jAraga pAliMDlu gadalaga |
cayyana guMce vEsIni sati nIku |
ceyyella baDalaMga jekkulu cemariMcaga |
voyyanE pAdA lottI nullasAna nIku ||
|| garima durumu vIDa gastUri bEMTlu rAla |
paragaga gALAMji paTTI nIku |
sarulu cikkuvaDaga saMdaDi nUrpulu rEga |
sirula gaMdamu pUsI jelarEgi nIku ||
|| tanuvu pulakiMcaga tamakamulu muMcaga |
yenaci yAku maDaci yiccI nIku |
anugu SrIvEMkaTESa alamElumaMga yIke |
canavuna gemmOvi cavicUsI nIku ||
.

We will update this page , once we find comprehensive meaning. Feel free to contribute if you know.
.