Composer: Sri Tallapaka Annamacharya (Annamayya అన్నమయ్య) , May 9, 1408 – February 23, 1503 was born to Narayana Suri and Lakkamamba in Tallapaka, a village in current day Kadapa district of Andhra Pradesh. More….
Keerthana No.57
Copper Sheet No. 110
Pallavi:Itavi kolicitene (ఈతవి కొలిచితేనే)
Ragam:Gauli
Language: Telugu (తెలుగు)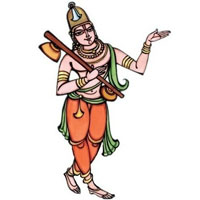 Recitals
Awaiting Contributions.
…
Awaiting Contributions.
[audio: audio-instrumental-file-name.mp3].
This Kriti was originally composed in Telugu. Other languages are for your convenience.
పల్లవి
ఈతవి కొలిచితేనే యిన్ని గొలలును దీరు
చేతనబెట్టుపుణ్యాలు చేరువనే కలుగు
చరణములు
1.పట్టి కాళింగుని దోలి పాముకొల దీర్చినాడు
బటబాయితనే రేపల్లేవరికి
అట్టె పుతన జంపి ఆడుగొల దీర్చినాడు
గట్టిగా గృఘ్ణడు లోకమువారికెల్లను
2.బలురావణు జంపి బాపనకొల దైర్చీనాడూ
యిలమీద గలిగినఋషుల కెల్లా
కొలదిమీరినయట్టికోతికొల దీర్చినాడు
సొలసి రాఘవుడదె సుగ్రీవునికిని
3.వొలిసి పురాలు చొచ్చి వూర గొల దీర్చినాడు
అల తనదాసులైన అమరులకు
సిలుగుగొలలు దీర్చి సేన వరా లిచ్చినాడు
చెలగి పరుషలకు శ్రీవేంకటేశుడు
.
Pallavi
Itavi kolicitEnE yinni golalunu dIru
cEtanabeTTupuNyAlu cEruvanE kalugu
Charanams
1.paTTi kALimguni dOli pAmukola dIrcinADu
baTabAyitanE rEpallEvariki
aTTe putana jampi ADugola dIrcinADu
gaTTigA gRGNaDu lOkamuvArikellanu
2.balurAvaNu jampi bApanakola daircInADU
yilamIda galiginaRshula kellA
koladimIrinayaTTikOtikola dIrcinADu
solasi rAGavuDade sugrIvunikini
3.volisi purAlu cocci vUra gola dIrcinADu
ala tanadAsulaina amarulaku
silugugolalu dIrci sEna varA liccinADu
celagi parushalaku SrIvEnkaTESuDu
.

We will update this page , once we find comprehensive meaning. Feel free to contribute if you know.
.