Composer: Sri Tallapaka Annamacharya (Annamayya అన్నమయ్య) , May 9, 1408 – February 23, 1503 was born to Narayana Suri and Lakkamamba in Tallapaka, a village in current day Kadapa district of Andhra Pradesh. More….
Keerthana No. 529
Copper Sheet No. 1200
Pallavi: Itti vimdu gamtiva (ఇట్టి విందు గంటివా)
Ragam: Desalam
Language: Telugu (తెలుగు)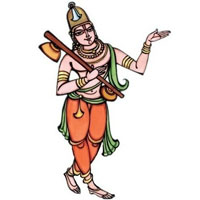 Recitals
Awaiting Contributions.
…
Awaiting Contributions.
[audio: audio-instrumental-file-name.mp3].
This Kriti was originally composed in Telugu. Other languages are for your convenience.
Pallavi
ఇట్టి విందు గంటివా నీవెక్కదైనా
అట్టె ఆకెపొత్తున నీవారగించవయ్యా ||
Charanams
1.కలికి కెమ్మోవితీపు కమ్మని తేనెలవిందు
చలువచూపులు నీకు జిక్కెరవిందు
సెలవి లేనవ్వులే చిలుపాలతోడి విందు
అలమేలుమంగ సేసి నారగించవయ్యా ||
2.కాంత గోరిచెనకులు కారపు గూరలవిందు
పంతపు మాటలే ఆవపచ్చడి విందు
వింతబొమ్మల జింకెనలే వేడి పడిదాల విందు
అంతసేసీ నీదేవి యారగించవయ్యా ||
3.అట్టడి సమరతి యాఅడి తరితీపువిందు
గట్టి సిగ్గు పెరుగు మీగడల విందు
గుట్టుతో మన్నించితివి కమ్మను శ్రీవేంకటేశ
అట్టె నీతనివిదీర నారగించవయ్యా ||
.
Pallavi
iTTi viMdu gaMTivA nIvekkadainA
aTTe Akepottuna nIvAragiMchavayyA ||
Charanams
1.kaliki kemmOvitIpu kammani tEnelaviMdu
chaluvachUpulu nIku jikkeraviMdu
selavi lEnavvulE chilupAlatODi viMdu
alamElumaMga sEsi nAragiMchavayyA ||
2.kAMta gOrichenakulu kArapu gUralaviMdu
paMtapu mATalE AvapachchaDi viMdu
viMtabommala jiMkenalE vEDi paDidAla viMdu
aMtasEsI nIdEvi yAragiMchavayyA ||
3.RaTTaDi samarati yARaDi taritIpuviMdu
gaTTi siggu perugu mIgaDala viMdu
guTTutO manniMchitivi kammanu SrIvEMkaTESa
aTTe nItanividIra nAragiMchavayyA ||
.

We will update this page , once we find comprehensive meaning. Feel free to contribute if you know.
.