Composer: Sri Tallapaka Annamacharya (Annamayya అన్నమయ్య) , May 9, 1408 – February 23, 1503 was born to Narayana Suri and Lakkamamba in Tallapaka, a village in current day Kadapa district of Andhra Pradesh. More….
Keerthana No. 70
Copper Sheet No. 53
Pallavi: Iyya komti nipanulu
(ఇయ్య కొంటి నీపనులు)
Ragam: Varali
Language: Telugu (తెలుగు)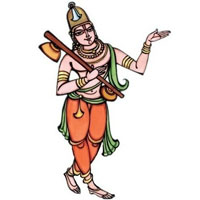 Recitals
Awaiting Contributions.
…
Awaiting Contributions.
[audio: audio-instrumental-file-name.mp3].
This Kriti was originally composed in Telugu. Other languages are for your convenience.
Pallavi
|| ఇయ్య కొంటి నీపనులు ఇంతా మేలే |
చెయ్యి మీదాయ నాకు సిరులేమి బాతి ||
Charanams
|| నయగారి వాడవు నాకు నీవు గలవు |
ప్రియములేమి గడమ పెక్కుమారులు |
క్రియ లెఱుగుదువు కేలు చాచేవు నా మీద |
నియతాన నిందుకే నీ యాలనైతిని ||
|| చలపాది వాడవు సతమై వున్నాడవు |
చిలిము యేమి గడమ పై పై నేడు |
వలపించ నేరుతువు వంచేవు నాపై ననుపు |
కలకాలమును నీకు గైవశమైతిని ||
|| శ్రీ వేంకటేశుడవు చేరి నన్నుగూడితివి |
దైవిక మేమి గడమ తగులాయను |
భావమెఱుగుదువు పచ్చిగా నవ్వేవు నాతో |
వే వెలకును నీకే వెల్లివిరి యైతిని ||
.
Pallavi
|| iyya koMTi nIpanulu iMtA mElE |
ceyyi mIdAya nAku sirulEmi bAti ||
Charanams
|| nayagAri vADavu nAku nIvu galavu |
priyamulEmi gaDama pekkumArulu |
kriya lerxuguduvu kElu cAcEvu nA mIda |
niyatAna niMdukE nI yAlanaitini ||
|| calapAdi vADavu satamai vunnADavu |
cilimu yEmi gaDama pai pai nEDu |
valapiMca nErutuvu vaMcEvu nApai nanupu |
kalakAlamunu nIku gaivaSamaitini ||
|| SrI vEMkaTESuDavu cEri nannugUDitivi |
daivika mEmi gaDama tagulAyanu |
BAvamerxuguduvu paccigA navvEvu nAtO |
vE velakunu nIkE velliviri yaitini ||
.

We will update this page , once we find comprehensive meaning. Feel free to contribute if you know.
.