Composer: Sri Tallapaka Annamacharya (Annamayya అన్నమయ్య) , May 9, 1408 – February 23, 1503 was born to Narayana Suri and Lakkamamba in Tallapaka, a village in current day Kadapa district of Andhra Pradesh. More….
Keerthana No.115
Copper Sheet No.19
Pallavi:Kudu Vamdutai (కూడు వండుట)
Ragam: Sriragam
Language: Telugu (తెలుగు)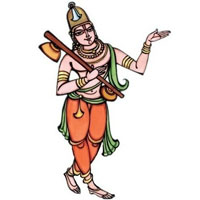 Recitals
Awaiting Contributions.
…
Awaiting Contributions.
[audio: audio-instrumental-file-name.mp3].
This Kriti was originally composed in Telugu. Other languages are for your convenience.
Pallavi
|| కూడు వండుట గంజికొరకా తనకు | వేడుకలు గల సుఖము వెదుకుటకు గాక ||
Charanams
|| కుప్ప నురుచుట కసవుకొరకా తనువు | గొప్పయవుటిది మదము కొరక |
ఒప్పయిన వేడుకల నొరసి మనసు | నెప్పునకు రాదివియ నేరవలె గాక ||
|| కొలుచు దంచుట పొట్టకొరకా తా- | గులజుడై మూఢుండౌ కొరకా |
తలపోసి యిన్నిట దగిలి మీదు | తెలిసి సుఖదుఃఖముల దెలియవలెగాక ||
|| కొండ దవ్వుట యెలుకకొరకా తా- | గొండ యెక్కుట దిగుట కొరకా |
కొండల కోనేటిపతి గొలిచి తనకు | నిండి నాపదలెల్ల నీగవలె గాక ||
.
Pallavi
|| kUDu vaMDuTa gaMjikorakA tanaku | vEDukalu gala suKamu vedukuTaku gAka ||
Charanams
|| kuppa nurucuTa kasavukorakA tanuvu | goppayavuTidi madamu koraka |
oppayina vEDukala norasi manasu | neppunaku rAdiviya nEravale gAka ||
|| kolucu daMcuTa poTTakorakA tA- | gulajuDai mUDhuMDau korakA |
talapOsi yinniTa dagili mIdu | telisi suKaduHKamula deliyavalegAka ||
|| koMDa davvuTa yelukakorakA tA- | goMDa yekkuTa diguTa korakA |
koMDala kOnETipati golici tanaku | niMDi nApadalella nIgavale gAka ||
.

We will update this page , once we find comprehensive meaning. Feel free to contribute if you know.
.