Composer: Sri Tallapaka Annamacharya (Annamayya అన్నమయ్య) , May 9, 1408 – February 23, 1503 was born to Narayana Suri and Lakkamamba in Tallapaka, a village in current day Kadapa district of Andhra Pradesh. More….
Keerthana No.187
Copper Sheet No.30
Pallavi:kuducugaka Tanakoladigani (కుడుచుగాక తనకొలదిగాని)
Ragam: Ramakriya
Language: Telugu (తెలుగు)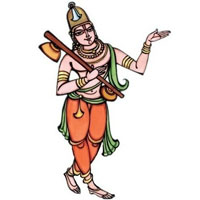 Recitals
Awaiting Contributions.
…
Awaiting Contributions.
[audio: audio-instrumental-file-name.mp3].
This Kriti was originally composed in Telugu. Other languages are for your convenience.
Pallavi
|| కుడుచుగాక తనకొలదిగాని మేలు | దడవీనా నోరు తగినయెంతయును ||
Charanams
|| చంపవచ్చిన కర్మసంగ్రహంబగు బుద్ధి | గంప గమ్మక తన్ను గాచీనీ |
పంపుడు దయ్యమై బాధ బెట్టెడుయాస |కొంపలోన నుండ నీగోరీనా ||
|| శ్రీవేంకటగిరి శ్రీనాథుడిందరి | గావబ్రోవగ నున్నఘనుడు |
దేవోత్తముని నాత్మ దెలియ కితరములయిన | త్రోవ లెన్నిన మేలు దొరికీనా ||
.
Pallavi
|| kuDucugAka tanakoladigAni mElu | daDavInA nOru taginayeMtayunu ||
Charanams
|| caMpavaccina karmasaMgrahaMbagu buddhi | gaMpa gammaka tannu gAcInI |
paMpuDu dayyamai bAdha beTTeDuyAsa |koMpalOna nuMDa nIgOrInA ||
|| SrIvEMkaTagiri SrInAthuDiMdari | gAvabrOvaga nunnaGanuDu |
dEvOttamuni nAtma deliya kitaramulayina | trOva lennina mElu dorikInA ||
.

We will update this page , once we find comprehensive meaning. Feel free to contribute if you know.
.